Shoe of the week: Sabreen Antique by Love Art Wear Art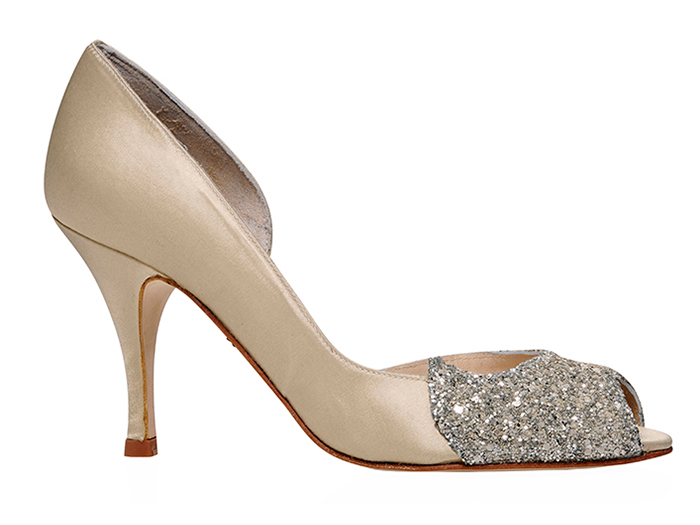 I'm a bit of a magpie when it comes to shoes so this little beauty, Sabreen Antique by Love Art Wear Art (£200) got me in a bit of a swoon this week.
Things I love about this shoe:
The sweet champagne alternative to traditional bridal white, because I love it when your shoes become a talking point too!
The cute cutaway sides are oh-so-elegant
The peep toe, because I'm obsessed with a peep toe!
And last but by no means least, that fabulous silver glitter detail, because all brides need to sparkle on their wedding day!
SHOP THE COLLECTION OF LOVE ART WEAR ART SHOES AND MAKE A PAIR OF THESE BEAUTS YOUR BRIDAL MUST-HAVES
Bridal underwear solutions for smaller + larger busts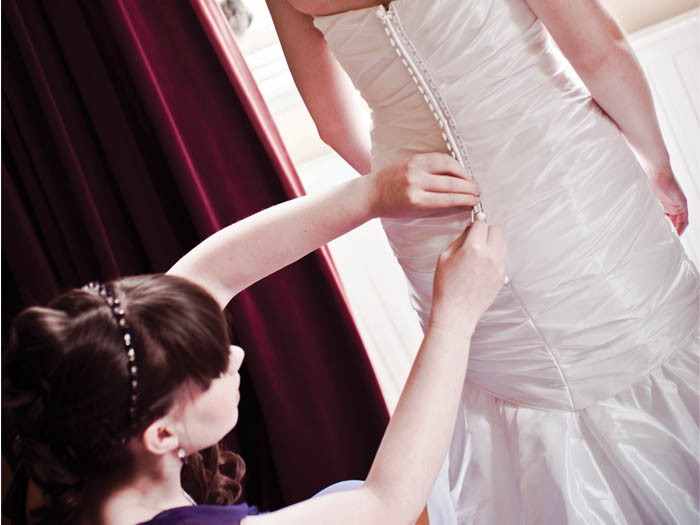 Your first night as Mrs and Mrs may conjure up romantic images of beautiful lingerie sets but it could be wise to explore a smart approach to your wedding underwear.
Regardless of bust size and dress style, we're here to help you get the right underwear for your gown.
Underwear solutions for smaller cup sizes
Consider bra-less
Most wedding gowns just aren't compatible with fancy, ornate undies. "In the majority of cases, wedding dresses are structured so well that unless they're large busted, we'll advise our brides not to wear a bra," agrees KJ of The Wedding Planner bridal shop in Helensburgh.
Look for a structured wedding dress
It may be worth spending a bit more on your dress. If you've bought a cheap bridal gown then you probably will need more supportive underwear.
Designer gowns tend to have internal corsets and boning to give increased support.
Bust cups
Bust cups sewn into the dress can save you from paying over the odds for underwear that you might never wear again," suggests Helen from Anne Priscilla Bridal in Glasgow.
Underwear solutions for the fuller bust
Get fitted
Not wearing a bra simply isn't an option for ladies with larger busts.  Plus, sewn-in cups also do not provide enough support.
"In this instance, the most important thing is to get a good fitting bra " this is a great opportunity to get measured," says Avril of plus-size bridal boutique Beau Belles in Linlithgow.
Over-the-shoulder cups
If you can't find a strapless bra that's supportive enough, try having over-the-shoulder straps sewn on.
Inside the wedding of crystal empire heir, Victoria Swarovski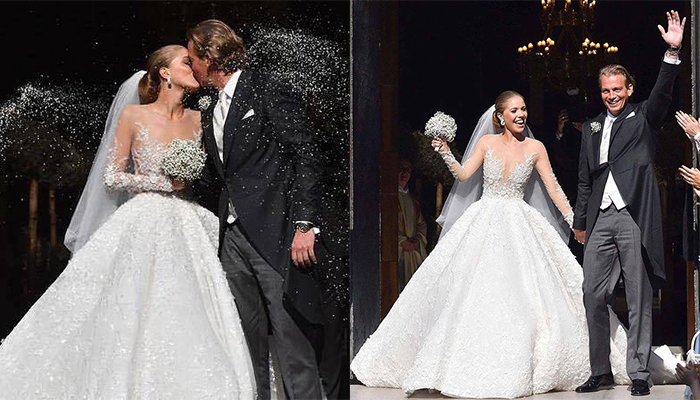 If you think you've gone OTT with the bling for your big day, we guarantee you've been beaten by Victoria Swarovski, heir to the Swarovski crystal empire, who wed Werner M¼rz in Italy last weekend (17th + 18th June 2017).
IMAGES | @victoriaswarovski 
One of her gowns (she wore three) was designed by Michael Cinco, and embellished with 500,000 of her family's namesake crystals It weighed 46kg, had an eight-metre train and was worth more than $1,000,000!
IMAGES | @instagramdesign + @victoriaswarovski
After the ceremony, the newlyweds joined guests in Portopiccolo near Trieste at Maxi's Restaurant, where they dined alfresco around beautiful tables decorated with herb trees and thousands of Swarovski crystals.
Shoe of the week: Gabriella by Rachel Simpson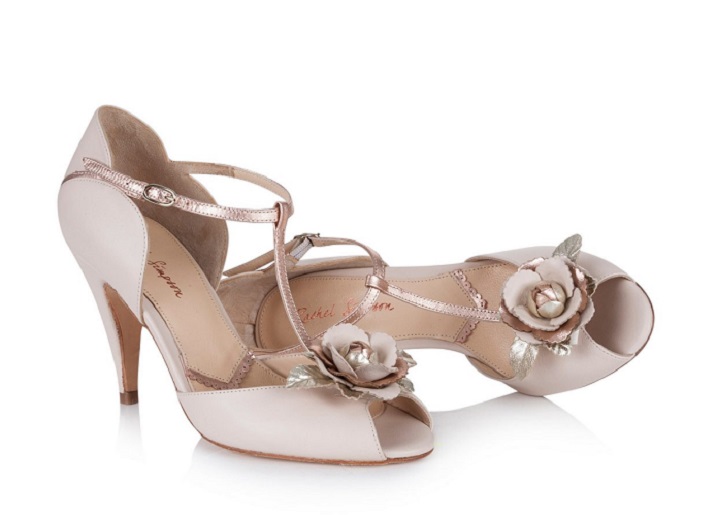 The summer sales have started everywhere, making way for beautiful new collections! These gorgeous shoes by Rachel Simpson, 'Gabriella' (£249), caught my eye this week.
Things I love about this shoe:
the cute t-bar is a Rachel Simpson staple, and helps keep the shoe firmly attached to the foot when you're being burled around during Strip the Willow
They're ROSE GOLD! And I'm obsessed with rose gold
Forget dyable satin; these lovely leather heels won't get grass stains on them
the embellished rose is an oh-so-romantic touch
They're perfect!
Get a pair of Rachel Simpson shoes to call your own from a Scottish bridal boutique…
Choose the right underwear for your wedding dress style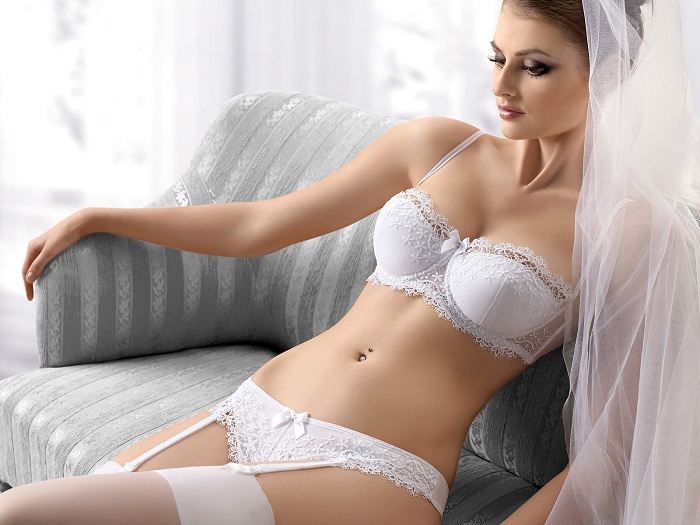 Choosing the right underwear for your dress style can be tricky territory. Don't let it be an afterthought!
We suggest, and ask Scottish wedding boutique experts, what the best undies to pair with each dress style is.
For a low back, one option would be to put a bra retainer in your dress.
"This is essentially like a belt loop that you can feed your bra through," explains Helen from Anne Priscilla Bridal. "This is ideal for dresses that sit an inch or two below where your strap would normally be. But the lower you get, the more likely it is that you'll need to get cups sewn in."
If you'd prefer to wear a bra, Marks and Spencer's Ultimate Multiway with Low Back Converter is fantastic for ladies who are an A-DD cup, while Wacoal's Longline Bra is available in a C-G cup.
Strapless and off-shoulder
The last thing you want is to have your bra straps on display. If your dress has a substantial built in cup, then you won't need to wear anything underneath. If you'd prefer to wear a bra, however, Kirsty from Ivory Pinks suggests a soft strapless.
The Wonderbra Ultimate Strapless Bra (A-G cup) is perfect for dresses with sweetheart necklines and comes in a variety of colours.
Another option if your gown isn't offering substantial support would be to wear a basque, which has the added benefit of nipping your waist in too. The Short Smooth Basque by Dominique Bridal has light boning and creates a smooth silhouette.
For princess-style you can pretty much wear whatever you like on your lower half. But if your gown is form-fitting and made from a sheer fabric, it's important to find undies that'll give you a sleek silhouette.
"Naomi Neoh's ˜Celeste' dress has a very sheer skirt, so you'd probably want to wear a half slip underneath to give you a smooth line over the bum," advises Fiona from Alison Kirk Bridal.
Alternatively, wear a pair of seamless knickers. "Get them in a size bigger than usual though, so that they don't impact your body and you feel comfortable and covered," says KJ of The Wedding Planner.
Some brides like to go bare-legged but many prefer to wear a pair of sheer tights or stockings. Remember, stockings will require a suspender belt to keep them up all day.
You're not restricted to skin-coloured garments, though. White embellished tights make a bold-but-wedding-appropriate style statement.
If you hate wearing hosiery but want your legs to look flawless, try Sally Hansen Airbrush Legs spray. It gives a hint of a tan and dries really quickly " Kim Kardashian's a big fan!
Looking for a wedding dress boutique or wedding lingerie shop? Look no further than our online directory!
This gown was just named the best wedding dress in the world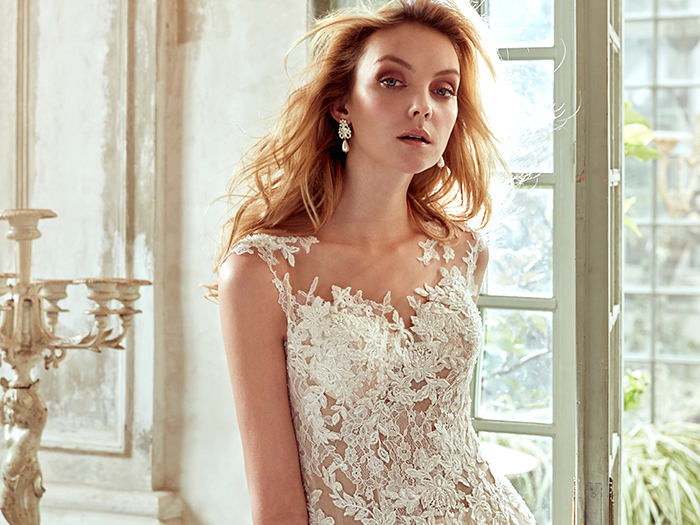 Bridal designers from around the world have been recognised for their talents at the inaugural Elle International Bridal Awards in Milan, held in conjunction with Si Sposa Italia Collezioni.
All the biggest names in bridal were there, including Pronovias (who won a Lifetime Achievement Award) and Tiffany & Co (Best Wedding Jewellery Collection, obv).
Editors from Elle magazines across the globe " including Germany, Korea, Japan, Italy and South Africa " voted on the winners for each category.
And the winner of the coveted Best Bridal Gown award? This beauty from Italian designer Nicole Spose.
The romantic dress features a soft tulle skirt and French lace bodice embroidered with pearls and micro crystals, with a stunning lace tattoo effect on the back. Seriously gorge.
Creative director of the Nicole Fashion Group Alessandra Rinaudo said this is "a prize of absolute prestige, a huge recognition if you think it was given by an international jury of all the international editors of all the Elle editions, with 143 nominations for 10 categories."
And the good news? Nicole Spose is stocked in Scotland! Check out the stockists of Nicole Spose in Scotland and who knows, maybe you could tie the knot wearing the best wedding dress in the world!
Shoe of the Week: Elspeth by Rainbow Club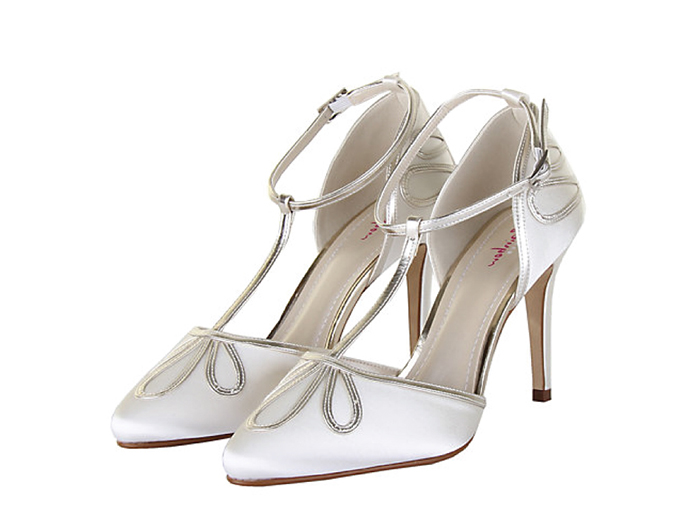 Our Shoe of the Week is right up my alley. Things I love about this shoe:
Its vintage throwback feel
It has personality without being gaudy
It has a 9cm heel, which is a comfortable height for a wedding shoe.
It's dyeable, meaning you can switch up the colour.
FIND RAINBOW CLUB'S SHOE COLLECTION IN SCOTLAND AT THE FOLLOWING BOUTIQUES¦
How to find the right shade of wedding dress for your skin tone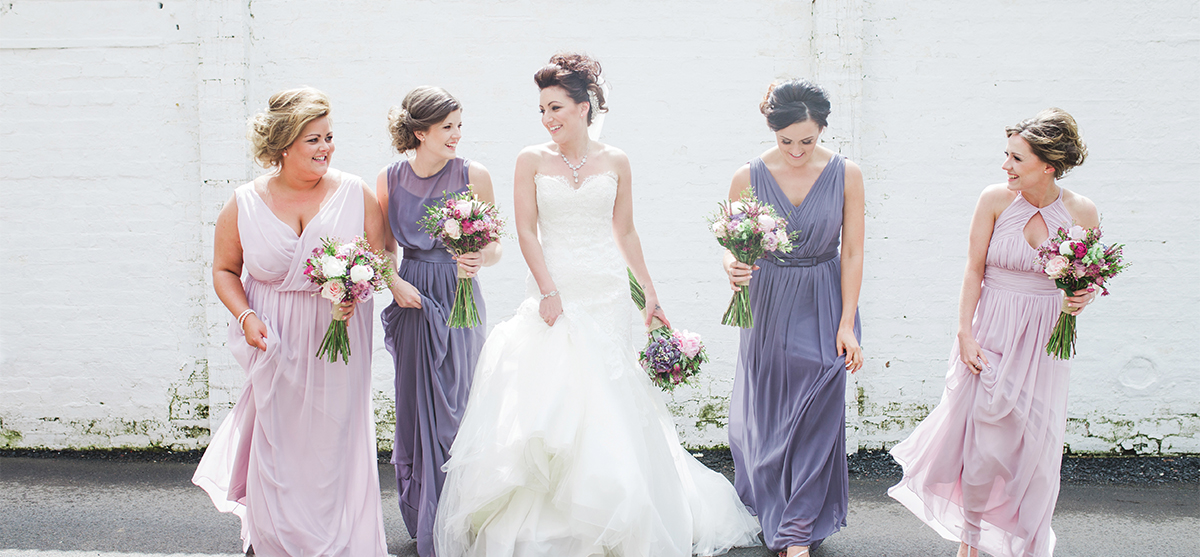 Whites, ivories, creams, neutrals, blushes- you might think getting caught up in the exact shade of your dress might be going a bit Bridezilla, but actually, it's essential to making sure the colour of the dress will complement your skin tone.
Getting the right dress for your skin is important, but a lot of us can't easily say what our skin tone is. To find out, hold a white piece of paper up to your skin while looking in the mirror. If your skin looks blueish or pale pink, then you probably have a cool skin tone. If it looks yellow or reddish, then you likely have a warm skin tone. Checked? Great, let's get started…
WHITE
A crisp white dress looks especially lovely on ladies with dark skin, and complments warm skinned brides nicely. To be avoided by cool toned women- the starkness can wash you out.
IVORY
Ivory is considered to be a universally flattering shade for brides, but that's only because there is so much variant on what can be considered ivory. Think of it as a muted, not as 'in your face' white, and you're along the right lines. It can range from having a slight hint of cream (great on cool skin) to a tinge of pink (lovely on warm skin) so ask if presented with an 'ivory' dress in a bridal boutique.
NEUTRAL
Think champagnes, blushes, and nudes. Champagnes and nudes are actually flattering on all skin tones, and add a soft boho vibe for brides going for a more romantic look. Blushes and dusty pinks are on two ends of the same spectrum- it looks lovely on very dark skin and very pale skin, but loses its way on skin tones in-between.
BLUES AND LAVENDERS
An unusual option, but one that really pays off for cool skinned brides. Delicate and a bit different, it's a great option if you're looking for a memorable dress- made even more special by the fact that not a lot of brides can pull it off.
How to get the most out of your wedding dress shopping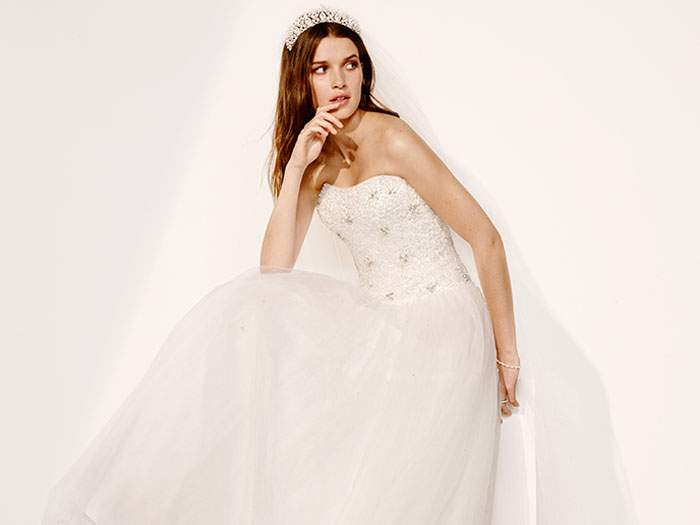 Looking at pictures of wedding dresses will only get you so far. At some point, you'll need to go shopping – so where do you begin?
Here's our round-up of the best wedding dress shopping tips – direct from bridal boutique owners.
MAKE A PLAN
Ideally, you should start looking around a year before the wedding. Start by researching bridal fashion boutiques and try to get a feel for the type of designers they stock. Some bridalwear boutiques prefer to keep this information under wraps, while others are quite open about it, particularly on their Facebook and Instagram feeds.
Regardless of where you go, expect to make an appointment in advance " you can't turn up on a shop's doorstep and expect A-list treatment.
Rebecca from Sarah Louise Bridal advises against visiting too many dress shops: "Some brides try to do five or six shops in one day and it becomes confusing."
Think about your venue and theme when choosing your dress " it may influence your choice.
DRESS FOR THE DAY
Dress shopping can be an intimate experience. If you're going to be trying on wedding dresses, banish black bras and opt for your best nude underwear instead.
Steph from Emma Roy of Edinburgh also advises that you wear anything that makes you feel good, "whether that's putting on some make-up, wearing Spanx or bringing a pair of heels."
BE OPEN MINDED
Don't make your mind up before you start shopping when you could be making the most of the expertise of those who work in the boutique.
"We've seen a variety of girls in all shapes and sizes, so we know what suits them," confirms Joanne from Anne and Bobbie's and the Marriage Room. "Most brides are open to suggestions."
BUDGET PROPERLY
Work out how much you have to spend on your dress before trying on a gown worth half a year's salary.
Rebecca from Sarah Louise Bridal advises: "Research the price range of shops before you visit " if you have a £1,000 budget, a shop with dresses starting from £5,000 isn't going to have anything for you."
Having a budget on the small side doesn't mean a designer dress is out of the question, however.
Try visiting a sample sale event or head along to a boutique's designer weekend. It will often offer discounts on purchases made.
… AND THINK ABOUT HIDDEN COSTS
Your budget should cover more than the dress. Factor in extras, like shoes, a veil or hair accessories.
"You should also look into dress shops' alternation packages as adjustments will cost extra," reminds Steph from Emma Roy of Edinburgh.
DON'T BUY ONLINE
Buying in-store is always best. It's fine to take a chance on a Topshop clearance sale; it's not ok to do it with your wedding dress.
Be wary of sites that seem to be offering the designer dress for a fraction of the cost –  if it seems too good to be true then chances are, it is.
KNOW YOUR SIZE
When you try on a dress in a shop, it's not going to be the perfect fit. "Our dresses start at a size 12 and go up to a 24," says Rebecca from Sarah Louise Bridal. "We do pinning and panelling, so you can see how the dress looks on you."
When it comes to ordering a dress, expect to go up a dress size or two from your high street size. "Call up shops in advance and see what sizes they offer " you want to be able to go and try something on."
Let the shop know if you intend to lose weight before the day, as that'll determine the size they order.
CONSIDER YOUR OPTIONS
Not totally enamoured by everything you've seen?  Remember that lots of dresses can be customised.
"We can add a modesty panel or straps, and tailor them to suit your shape exactly," says Sharon from Opus Couture. You could also go totally bespoke and have a dress made for you.
Soft and delicate poetry inspired bridal lingerie photo shoot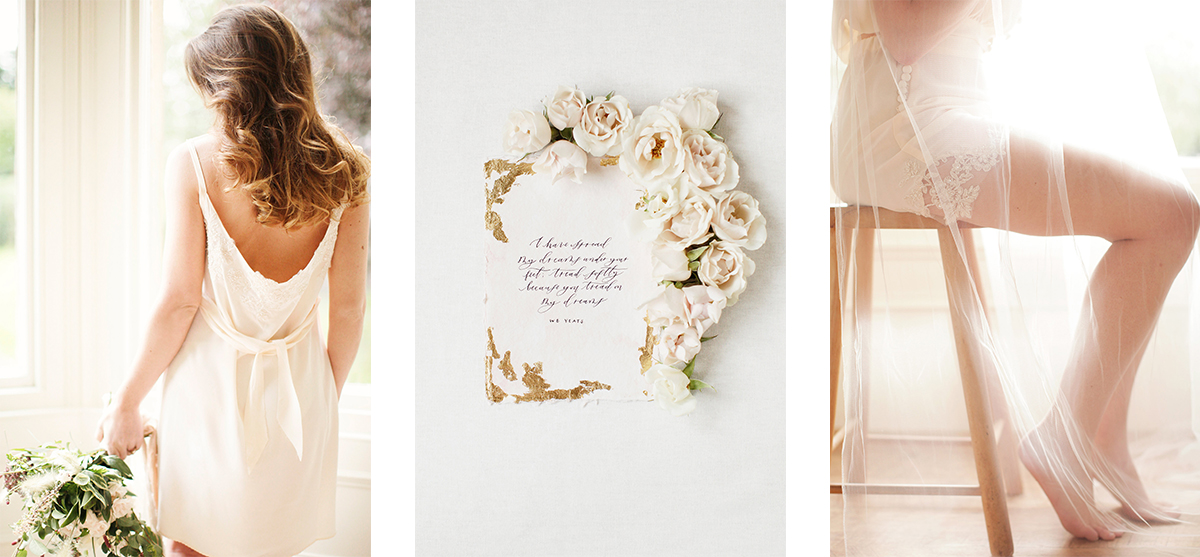 When this lingerie shoot came across our desks, we totally fell in love with it. Soft, delicate and beautiful, it's the embodiment of bridal grace and beauty.
Put together when Rachel Rose of Rachel Rose Photography was inspired by Yeats poem 'The Cloths of Heaven', she enlisted Ailsa Munro Dressmaker to design the intricate and pretty bridal lingerie that would eventually appear in the shoot, "I used natural, soft tones that Rachel loves to photograph, highlighted with hints of gold in the lace," says Ailsa.
Featuring lingerie and jewellery designed by independent wedding suppliers in Scotland and the North of England, we just couldn't help but share it with you!
Photography | Rachel Rose Photography
Lingerie| Ailsa Munro Dressmaker
Jewellery | Sarah Brown Jewellery
Flowers | Wildflower Florist
Hair | Hair at Home
Calligraphy | Lovely Day Fleur 
Find your wedding dream team with suppliers across Scotland listed in our online wedding directory!