Shoe of the week: Gabriella by Rachel Simpson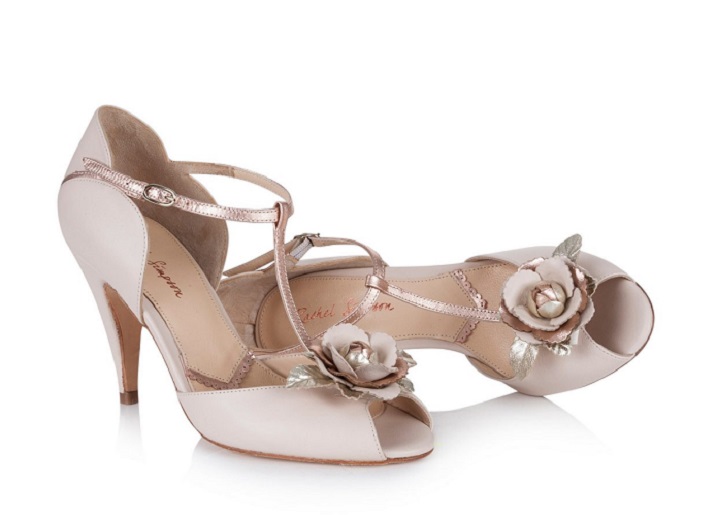 The summer sales have started everywhere, making way for beautiful new collections! These gorgeous shoes by Rachel Simpson, 'Gabriella' (£249), caught my eye this week.
Things I love about this shoe:
the cute t-bar is a Rachel Simpson staple, and helps keep the shoe firmly attached to the foot when you're being burled around during Strip the Willow
They're ROSE GOLD! And I'm obsessed with rose gold
Forget dyable satin; these lovely leather heels won't get grass stains on them
the embellished rose is an oh-so-romantic touch
They're perfect!
Get a pair of Rachel Simpson shoes to call your own from a Scottish bridal boutique…
Choose the right underwear for your wedding dress style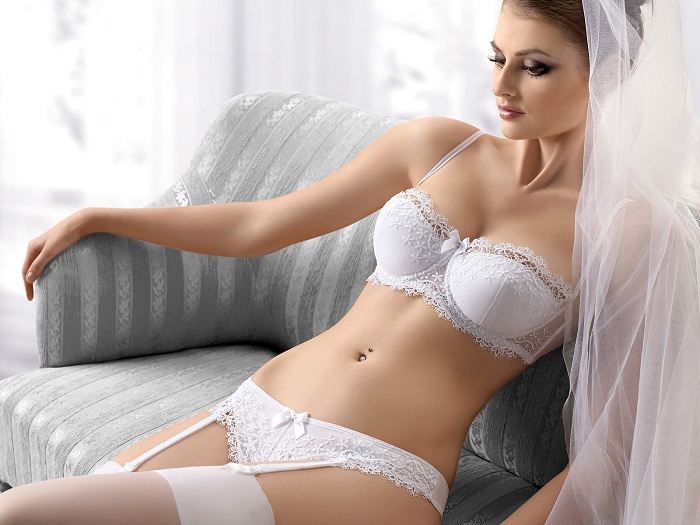 Choosing the right underwear for your dress style can be tricky territory. Don't let it be an afterthought!
We suggest, and ask Scottish wedding boutique experts, what the best undies to pair with each dress style is.
For a low back, one option would be to put a bra retainer in your dress.
"This is essentially like a belt loop that you can feed your bra through," explains Helen from Anne Priscilla Bridal. "This is ideal for dresses that sit an inch or two below where your strap would normally be. But the lower you get, the more likely it is that you'll need to get cups sewn in."
If you'd prefer to wear a bra, Marks and Spencer's Ultimate Multiway with Low Back Converter is fantastic for ladies who are an A-DD cup, while Wacoal's Longline Bra is available in a C-G cup.
Strapless and off-shoulder
The last thing you want is to have your bra straps on display. If your dress has a substantial built in cup, then you won't need to wear anything underneath. If you'd prefer to wear a bra, however, Kirsty from Ivory Pinks suggests a soft strapless.
The Wonderbra Ultimate Strapless Bra (A-G cup) is perfect for dresses with sweetheart necklines and comes in a variety of colours.
Another option if your gown isn't offering substantial support would be to wear a basque, which has the added benefit of nipping your waist in too. The Short Smooth Basque by Dominique Bridal has light boning and creates a smooth silhouette.
For princess-style you can pretty much wear whatever you like on your lower half. But if your gown is form-fitting and made from a sheer fabric, it's important to find undies that'll give you a sleek silhouette.
"Naomi Neoh's ˜Celeste' dress has a very sheer skirt, so you'd probably want to wear a half slip underneath to give you a smooth line over the bum," advises Fiona from Alison Kirk Bridal.
Alternatively, wear a pair of seamless knickers. "Get them in a size bigger than usual though, so that they don't impact your body and you feel comfortable and covered," says KJ of The Wedding Planner.
Some brides like to go bare-legged but many prefer to wear a pair of sheer tights or stockings. Remember, stockings will require a suspender belt to keep them up all day.
You're not restricted to skin-coloured garments, though. White embellished tights make a bold-but-wedding-appropriate style statement.
If you hate wearing hosiery but want your legs to look flawless, try Sally Hansen Airbrush Legs spray. It gives a hint of a tan and dries really quickly " Kim Kardashian's a big fan!
Looking for a wedding dress boutique or wedding lingerie shop? Look no further than our online directory!
Shoe of the Week: Elspeth by Rainbow Club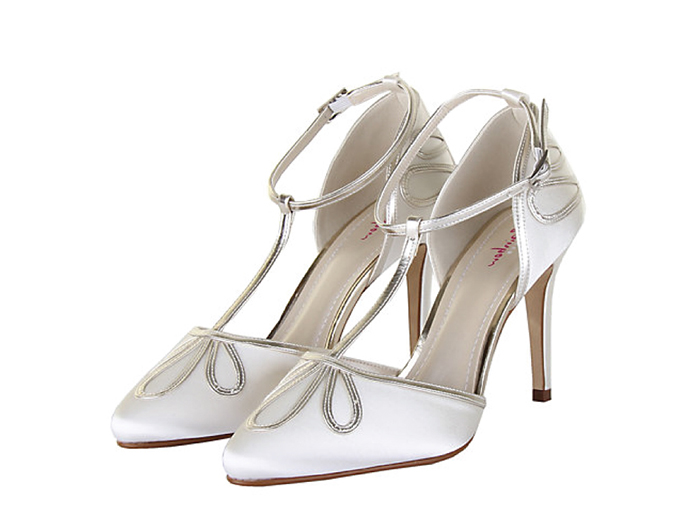 Our Shoe of the Week is right up my alley. Things I love about this shoe:
Its vintage throwback feel
It has personality without being gaudy
It has a 9cm heel, which is a comfortable height for a wedding shoe.
It's dyeable, meaning you can switch up the colour.
FIND RAINBOW CLUB'S SHOE COLLECTION IN SCOTLAND AT THE FOLLOWING BOUTIQUES¦
Shoe of the Week: Hetty by Harriet Wilde
This week's Shoe of the Week is a personal favourite of mine, Hetty by Harriet Wilde (£230). Things I love about this shoe:
thick ankle strap with chunkier buckle
block heel; they'll keep you upright even on softer ground
round toe, which immediately looks softer
dyable satin so you can match your 'maids or go for Something Blue
Find Harriet Wilde's newest collection in Scotland very soon at the following boutiques…
Paradox London's brand new affordable bridal shoe range for autumn/winter 2017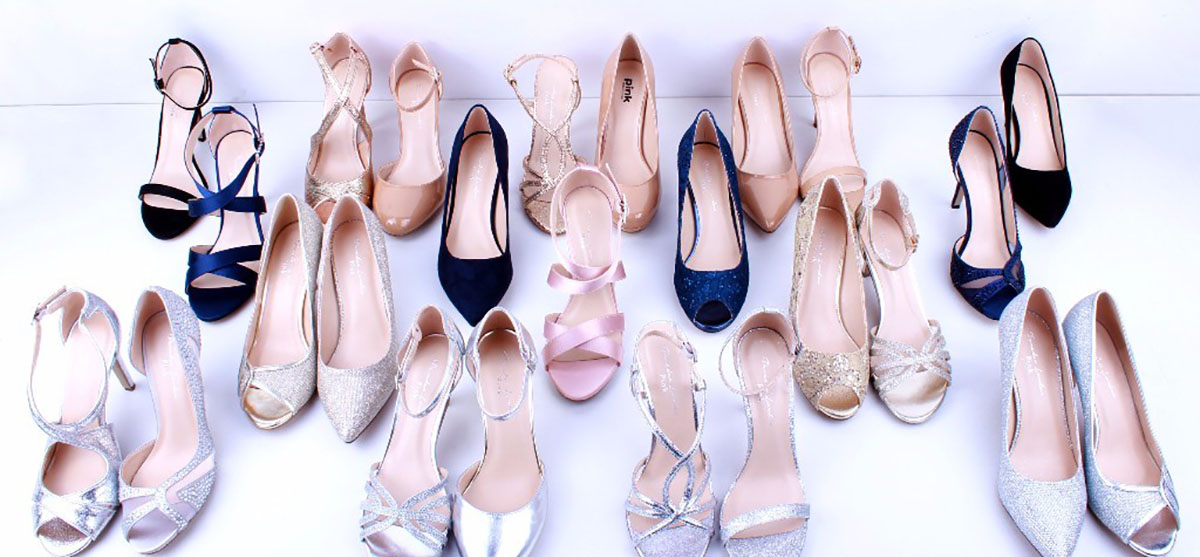 We know that wedding budgets can be tight, so it's good to be able to pick up some bargains where you can. If you're looking for affordable wedding shoes in Scotland without scrimping on style, then you're in luck with this gorgeous new autumn/winter 2017 collection from Paradox London.
With intricate lace detail, stunning embellishments and occasionwear shoes in a variety of glitter meshes and gorgeous colours, there's got to be something to suit your bridal look. And, best of all, prices start from £47 and don't go over the £100 mark. Winner!
Check out the styles, and where you can buy shoes by Paradox London in Scotland, below…
BUY PARADOX LONDON SHOES ONLINE OR AT ONE OF THESE SCOTTISH STOCKISTS FROM MID-JUNE…
Perfect Moments Bridal Boutique
Are your wedding shoes just as important as your dress?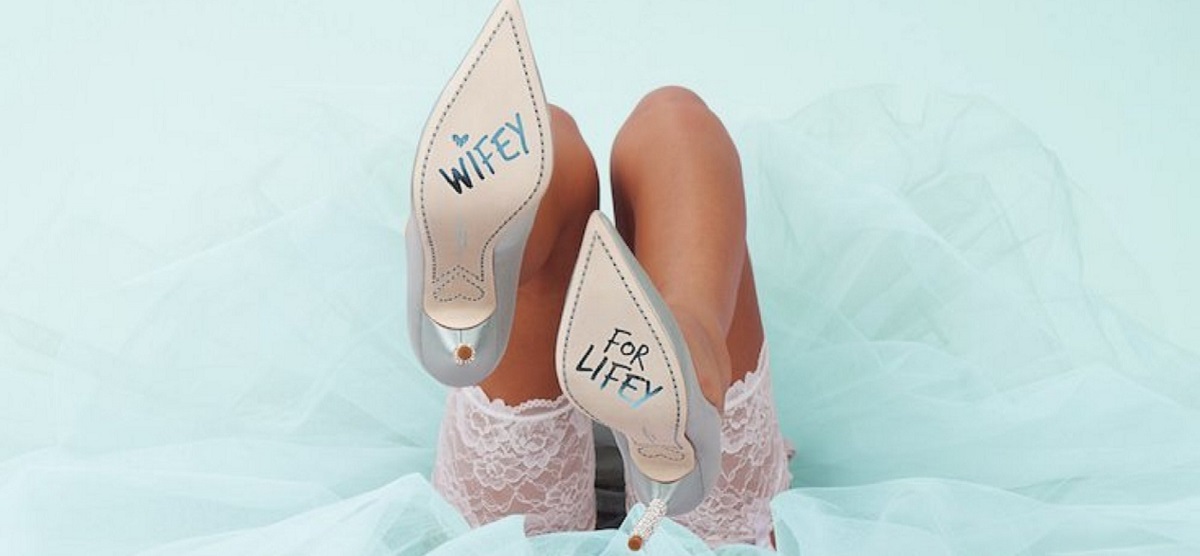 Are you more of a shoe girl? According to data compiled by global fashion website Lyst, 60% of brides considered their shoes to be just as important as their wedding dress; 20% even thought they were the more important the gown.
The survey also found that brides were giving tradition the boot when it comes to choosing wedding shoes and less than 30% were likely to buy cream, ivory or white shoes for their wedding day.
Instead, brides are optiong for bright colour pops and embellishments. We're big fans of a statement shoe at SWD!
Remember those blue bejewelled Hangisi Manolo Blahnik pumps that Mr Big gave to Carrie Bradshaw in SATC, in place of an engagement ring?
Pink Hangisi pump by Manolo Blahnik
They've been a cult wedding shoe for brides ever since, but it seems that Something Blue is being replaced by Something Pink; for the first time, the gorgeous pink shade has overtaken the blue as most popular for brides, and statement styles by Sophia Webster and Jimmy Choo are high up there on the lust list.
Lyst compiled the report based on search, sales and active browsing figures across 12,000 websites and a survey of 100 brides-to-be.
Are your wedding shoes super important to you? Which pair have you decided on and why?
Show us!
Save on your sparkling wedding sets with Laing Edinburgh
Still to find your bridal jewellery for the big day? You need to hear the latest Laing Edinburgh news!
The Scottish jeweller have just announced that their exclusive, in-house designed Family Collections are now available as sets, saving you up to 15% off the total price.
Inspired by owner Michael Laing's family, the collection is made up of engagement and wedding rings, and perfectly matching jewellery,and each with its own unique character. Because they belong together, Laing Edinburgh will now offer the beautiful earrings and pendants as sets
We love the classic sets, especially as they feature handpicked diamonds set in 18ct gold – dreamy! Prices start from £1,035 with the timeless styles a real investment for your jewellery box.
Here are some of our favourites…
You can shop the Family Collections jewellery sets at Laing Edinburgh now.
Meet our body confident real Scottish brides!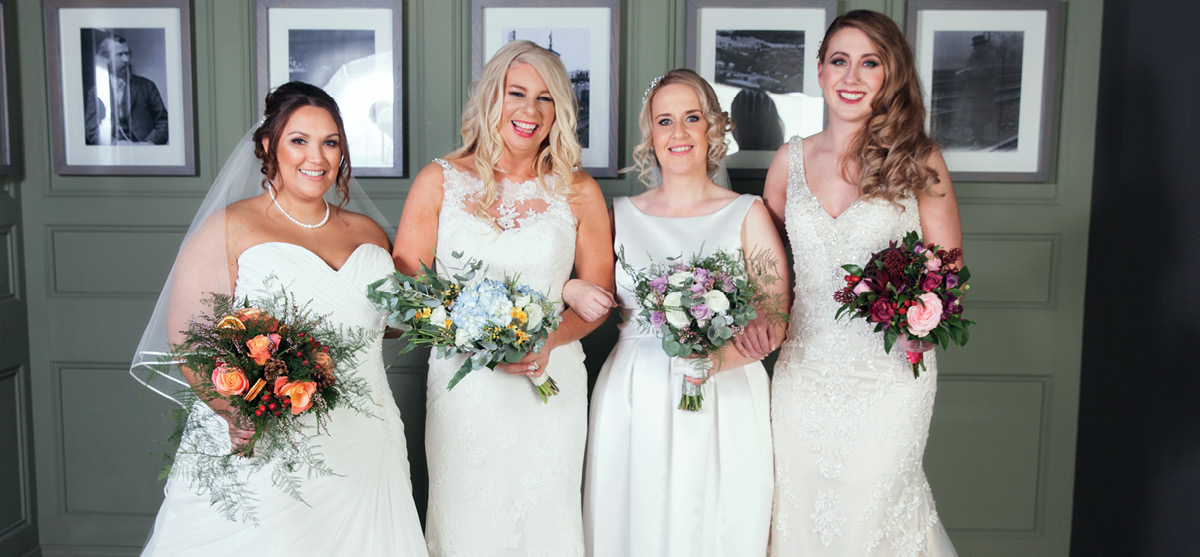 Photography: Laura Tiliman + Eve Conroy
Venue: The Corinthian Club, Glasgow
The idea behind the shoot was simple: most magazines generally only represent one body type and age bracket in their fashion shoots (and we're as guilty of it at SWD as any other publication), which means many women don't see models they can relate to in magazines. This isn't ideal when you're looking for one of the most important dresses you'll ever wear.
You want to get an idea of the styles that will potentially suit you, because as we all know, half the battle in finding the right wedding dress comes down to picking one that flatters your figure " and that can be tricky to suss out if you only ever see women who conform to one narrow beauty standard modelling the gowns.
MEET OUR REAL LIFE BRIDES!
SUZY
Sonsie satin A-line gown with V neck and cap sleeve, covered with embellished tulle and long train (POA), Love Your Curves Bridal
Hand-tied bouquet with asparagus fern, coral roses, heather, berry, pine cones and orange slices (£85), Lavender Blue Glasgow
Suzy is marrying other half Mark at Dalmeny Park Country House Hotel this September, and has already chosen her dress.
"I was quite open-minded when I went looking for it. Because of my size, I don't really like my arms or tummy, and I initially wanted something that covered these areas," says the bride, who is a size 22-24. "However, the dress I actually chose doesn't cover my arms " it just brings me in in all the right places, and makes me feel fantastic!"
Callista soft ruched chiffon gown with A-line silhouette, embellished with freshwater pearls handbeaded down the bodice (POA), Love Your Curves Bridal
Suzy's beauty look was all about the romance. "Suzy wanted a soft, natural eye so I used pink and brown tones to keep it glam but still very soft," says MUA Nicola of Honey & Violet. "I also went for a nude pink lip and kept her skin very glowy."
To create her loose, romantic up-do, hairstylist Lisa of Honey & Violet curled Suzy's hair and backcombed at the top to create volume, then twisted her hair up. "I pulled and pinned to secure, and put her hair in a middle parting to give soft curls around her face."
KIM

White One by Pronovias ˜Sayde' dress in embroidered tulle with a V-neckline, lace and gemstone appliqués (£1,140) and crystal and pearl blossom hairpiece (£39.99), both Ivory Whites
Trailing hand-tied bouquet with blue hydrangea, eucalyptus, asparagus fern, cat tails, mimosa, and pops of narcissi and ranunculus (£85), Lavender Blue Glasgow
This October, Kim will marry partner Paul at West Brewery in Glasgow " but she's not found her dress yet.
"I'm a little bit nervous, and scared I'll pick one and then see something else I love," says Kim, who is a size 12. "I'm open to trying most styles, but I'm keeping clear of princess-style ball gowns. I've got quite a long back, so something to show this off would be nice. I'm keen to show SWD readers that age is no barrier to being a bride or to wearing a proper gorgeous wedding dress."
Kim came in with make-up on so, for me, that was great as I could see what she likes," says MUA Stevie McCormack of Make Up and Hair by Stevie, who used golden brown tones on Kim's eyes and went for a classic red lip to complement her blonde hair.
Kim plans to wear her hair down when she ties the knot, so hairstylist Aimi Clark of AMM Hair and Make Up Team created soft, glamorous curls. "I used the GHD Soft Curl Tong to give this fuller look, and styled with Silhouette and Wella products."
CHRISTINE

Halfpenny London ˜Laura' long-sleeved top (£1,250) and ˜Dita' silk tulle skirt (£1,500), worn with Watters bodice (£750) and Stephanie Browne Australia ˜Stars in my eyes' headpiece (£310), Anne Priscilla Bridal
Country-style hand-tied bouquet of vintage spray roses, asparagus fern, eucalyptus, waxflower and ranunculus (£85), Lavender Blue Glasgow
Shortly after getting engaged to partner Graham in December 2014, Christine picked her dress for their February 2017 wedding at Forrester Park Resort " a size eight Pronovias gown. Then, at the start of 2016, she was overjoyed to discover she was expecting a baby. After baby Beau was born, Christine (now a size 12) went to try the dress on.
"This was an anxious experience; the dress was now too small, and I had to leave the shop without it," says the bride, who fortunately found another dress elsewhere. "My style has definitely changed since becoming a mum," she says.
"My first dress was tight and slinky, but my new dress, as well as being beautiful, is comfortable. Something I won't have to go on a juice diet to wear!"
Atelier Emelia ˜Angelique' low-waist dress in silk mikado with pockets, boat neckline and deep back neckline (£1,470) and Alan Hannah veil (£374), both Anne Priscilla Bridal
"When Christine gets married she's going to have a lot of mauve colours, so we've stuck with that; it's a very vintage but natural look," says make-up artist Caroline of Caroline Stewart Makeup Artistry, who used the Urban Decay Naked Basics palette.
Hairstylist Karen of Divine Hair by Karen Rider worked with Christine's naturally curly hair to create a romantic up-do. "I used a little bit of hair padding and curled the hair in different directions to make it look very natural," she says.
ERIN
Nicole Spose ˜NIAB16022′ (POA), En Vogue hair accessory (both POA), Sophia Grace Couture
Hand-tied bouquet with Sweet Avalanche roses, blueberry roses, ranunculus, berry, skimming and lotus pods (£85), Lavender Blue Glasgow
"I represent the gals with the small boobs, ab-free tummies and lanky legs," joked Erin in her application for this shoot.
Erin is marrying other half Scott at Dalduff Farm in Maybole next year, and hasn't chosen her dress yet. "I think because I'm tall and quite slim I fancy something that will show off my figure. But obviously I want something comfortable too, so nothing that's too tight around my tummy – you want to be comfy during the day and to be able to dance," says the bride, who is a size 10.
"I want something less traditional, and more ˜fashion', and I'd love a detachable skirt or train."
Kenneth Winston ˜1658′ (POA), Sophia Grace Couture
Erin's hair and make-up was done by Sabina Kwiatkowska of Make-up Artists Creative Agency Scotland. "Because Erin likes wintry colours we went for smoky eyes and plummy lips," she says. "My secret hero product is Bourjois Healthy Mix Foundation; it's great for photoshoots as it doesn't contain an SPF."
Sabina styled one side of Erin's hair in big bouncy curls, leaving the other half sleek for a contemporary, fashion-forward look.
With thanks to Naydene from Sophia Grace Couture, Jen at Anne Priscilla Bridal, Karyn at Ivory Whites and Karen from Love Your Curves Bridal for their assistance and styling on this shoot.
Read more on pages 96 – 109 in the winter issue of Scottish Wedding Directory magazine, out now!
Future classics: 2017 wedding dress trends for your body shape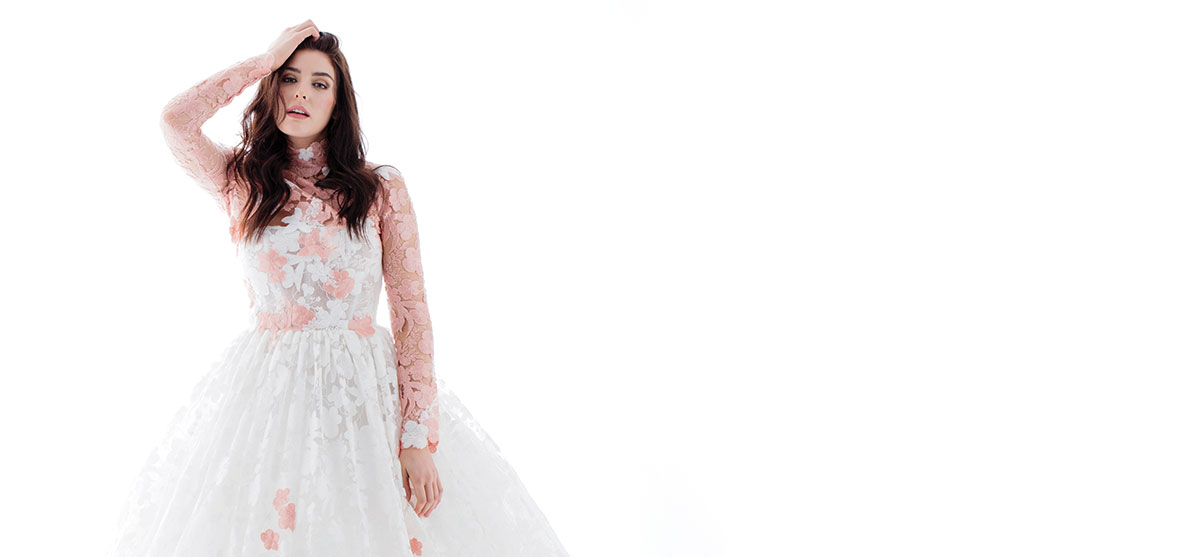 Photographer: Chris Blott
Styling: Beth Farquhar
Hair + Make-up: Claire + Tom @ Spotlight Professional Makeup and Hair
Flowers: Cherry Blossom
Model: Melissa McComb @ Colours Agency
FULL BLOOM
The trend for florals has been steadily, ahem, growing of late, but this year they're bigger and bolder than ever.
This stunning Eleganza Sposa dress (POA) is actually a two-piece; a full strapless dress made from sequin-embroidered tulle, with a high-necked coral long-sleeved body over the top. Perfect if you want to switch up your look from day to night!
MODERN MERMAID
This textured crepe body-con silhouette gown with dramatic fishtail and train (£2,695) from Anne Priscilla Bridal proves that fishtail gowns needn't be fussy or frothy.
This is the kind of dress that quietly lets you take centre stage " sleek, elegant and oh-so-flattering.
Styled with pearl beaded pillbox hat with bow (£295), pearl necklace (£100) and bracelet (£75), Ultimate Design Hats. Hand-tied bouquet of ivory roses, white ranunculus, white double lisianthus and white stock, finished with ribbon and pearl pins (£85), Cherry Blossom.
THE TWO PIECE
The bridal catwalks have been awash with midriff-exposing separates, but this gorgeous two-piece gown with illusion lace bodice and tulle skirt (£1,295) from Melle Cloche is a much more wearable take on this trend.
Styled with beaded hair comb (£105), Lily Luna. Long pearl lariat necklace (£300) and earrings (£100), Ultimate Design Hats.
SOFT ROMANCE
No matter the year, there'll always be a place for prettier-than-pretty princess gowns.
This Diane Honeyman dress (POA), with its layered tulle skirt and sweetheart neckline decorated with chantilly, embroidery and gemstone appliqué on crystal tulle, is so romantic. Wear with loose, messy waves for a contemporary feel.
BRING IT, BACK
Encourage the best kind of back chat from your guests in a gown that delights from all angles.
We love the gemstone-and-tulle embroidered geometric design on this Mikado silk mermaid dress (£1,995) from Kavelle Bridal Couture. Styled with beaded hair vine (£135), Bridal Bliss Accessory Boutique.
Hand-tied bouquet of ivory roses, white ranunculus, white double lisianthus and white stock, finished with ribbon and pearl pins (£85), Cherry Blossom.
BOHO BEAUTY
The 1970s revival has brought about a surge in bohemian-inspired bridalwear, such as this boho lace gown with capelet (from £2,500) from Eleganza Sposa.
Styled with hand-tied bouquet of white hydrangeas, finished with ribbon and pearl pins (£70), Cherry Blossom.
ALTER HALTER
Halterneck styles are very popular just now " this moss crepe halterneck gown (£2,700) from Rachel Scott Bridal Couture just exudes Parisian chic.
Styled with 100% silk-crepe-backed satin bridal headpiece finished with pearl (to hire from £18 or bespoke £249), Toco Fashion. Pearl bracelet (£75), Ultimate Design Hats.
PERFECT ILLUSION
An illusion neckline is the perfect solution for brides who want to show some skin without feeling too exposed.
This figure-flattering silk-georgette dress with illusion neckline appliquéd with ivory and silver roses (POA), from the Couture Collection at Joyce Young Design Studios, is a true beauty.
Styled with bridal headpiece (hire from £12 or buy from £120), Toco Fashion.
Hand-tied bouquet of ivory roses, white ranunculus, white double lisianthus and white stock, finished with ribbon and pearl pins (£85), Cherry Blossom.
DARLING BEADS
Those of you with magpie-like tendencies will love the intricate beadwork adorning many of this season's dresses, including this stunning silver sparkling beaded tulle gown (£4,199) and headpiece (POA) from Pan Pan Bridal.
CAPE DIEM
If you love the swooshy drama of a veil but don't like the tradition it represents, the bridal cape is your new BFF. Wear it during the day then take it off to dance at night!
This stretch-georgette mermaid gown (£650) is worn with a lace and beadwork belt (£189) and lace-edged cape (POA), all from Opus Couture.
The Winter 17 issue of Scottish Wedding Directory is out now. Take a peek between the pages…
Bridal accessory brand Ivory & Co. release high street collection at John Lewis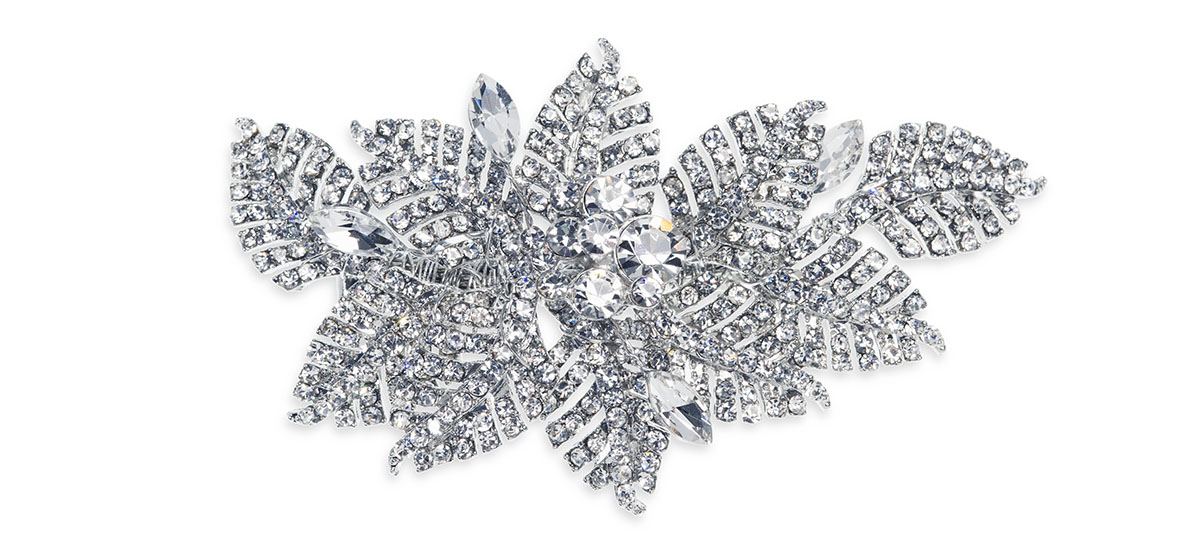 Regent Rose Pendant
Exciting news! John Lewis have teamed up with award winning design house Ivory & Co. and will for the first time offer brides a fantastic collection of luxury bridal accessories.
Ivory & Co. are an established award-winning headpiece and bridal jewellery brand and for the first time, they are designing exclusive pieces for high street giant John Lewis in a variety of styles.
Starlit Sky headpiece
Parisian bracelet
Pieces are produced to the usual high standard and using quality materials including rose gold, and are set with simulated diamonds for maximum sparkle!
Brides can find everything they need with stunning bridal pieces available, alongside hair clips and subtle jewellery sets perfect for bridesmaids gifts.
Icon earrings + Icon necklace
This gorgeous range is available now online at www.johnlewis.com and can be purchased in two John Lewis department stores in Scotland: Edinburgh and Aberdeen.