The prettiest flat wedding shoes for brides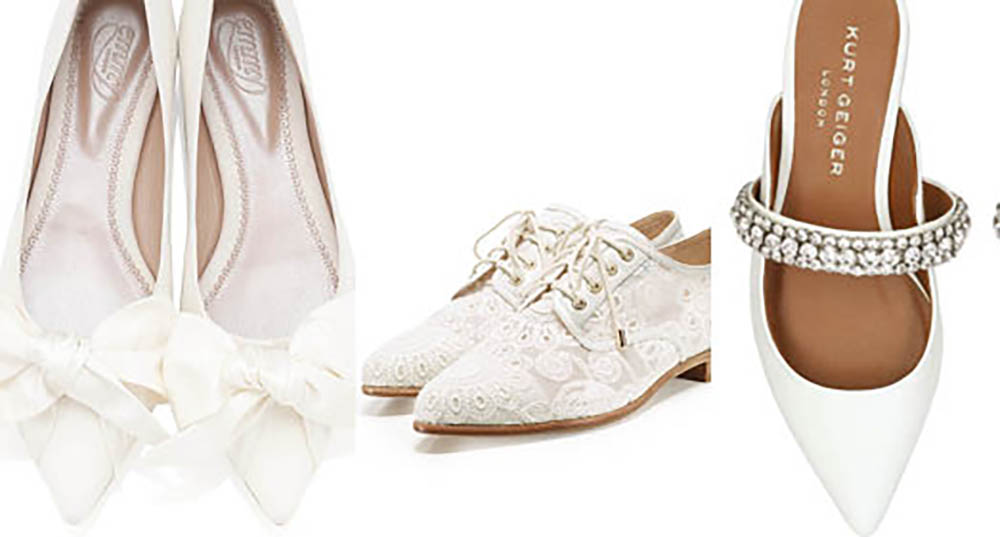 On Instagram you might see a bride posing in her impossibly beautiful Jimmy Choo wedding shoes, but the reality is that the high heels will often be kicked off after the first dance (if they've even lasted that long) in favour of a pair of bridal flats.
It used to be the case that flat bridal shoes were a bit boring, and there wasn't much in the way of choice for stylish brides that don't feel comfortable in a pair of heels.
These days, though, there's a staggering selection of wedding flats available. Plus, there's not so much pressure on women to bow to convention (check out this bride who wore Dr Martens on her wedding day!).
Flat wedding shoes are no longer the humdrum second-rate option and can be just as beautiful as their towering, feet-pinching counterparts.
And they are way easier to dance in!
Whether you're looking for bridal sandals or brogues, wedding trainers or the timeless ballet slipper, we've found the prettiest bridal flats for brides on all budgets.
The Scottish Wedding edit: Flat wedding shoes for brides
Perfect for a beach wedding, these designer dupe slip-on bridal sandals are also ideal for your honeymoon wardrobe.
Buy them now // Novia diamante slip-on sandals (£99) Dune
One of the indisputable queens of bridal shoes, Sophia Webster caters for all brides. We love the Butterfly flats, which come in an assortment of colours.
Buy them now // Butterfly broderie flat pump (£295) Sophia Webster
We couldn't love these elegant backless mules more. A chic pointed toe and embellished strap make them perfect for glam brides.
Buy them now // Princely white leather shoes (£139) Kurt Geiger
These luxe quilted trainers put paid to the idea that trainers are casual-wear only, and will ensure you're the last one standing on the dance floor. As it should be!
Buy them now // Groeria white quilted trainers (£55) Aldo
We love the idea of wearing a pair of brogues on your wedding day and they don't come much prettier than this light, lacy pair.
Buy them now // Lisa bridal brogues (£265) Florence
Chic and simple, these flip flops are made from genuine leather, making them a steal for the price.
Buy them now // Premium quality white leather flip-flops (£24.99) H&M
Pearls are obv a classic style choice but they've enjoyed a resurgence in popularity lately, and these are among the most gorgeous pearl wedding shoes we've seen.
Buy them now // Indigo pearl shoes (£170) Charlotte Mills
Not every pair of Louboutins has a skyscraper heel, ya know. These studded ballet bridal flats mean you can still get in on the Louby action even if you prefer flat shoes (and yes, they do have the iconic red sole).
Buy them now // White Anjalina studded leather point-toe flats (£565) Net A Porter
Flat wedding shoes needn't be girlie. Give your wedding dress an edge by teaming it with these amazing white Dr Martens. Don't forget to break them in before the big day!
Buy them now // 1460 Mono white leather boots (£149) Dr Martens
Loafers always look totally chic, and are the perfect accompaniment to a slick tailored bridal suit or a wedding jumpsuit.
Buy them now // Raid Clareta loafers (£24.99) ASOS
Aren't these Emmy London flat bridal shoes just dreamy? If your wedding dress has a bow, co-ordinate with these beauties for a whimsical, feminine look.
Buy them now // Florence flat wedding shoes (£395) Emmy London
10 pairs of Jimmy Choo wedding shoes we'd buy if we were rich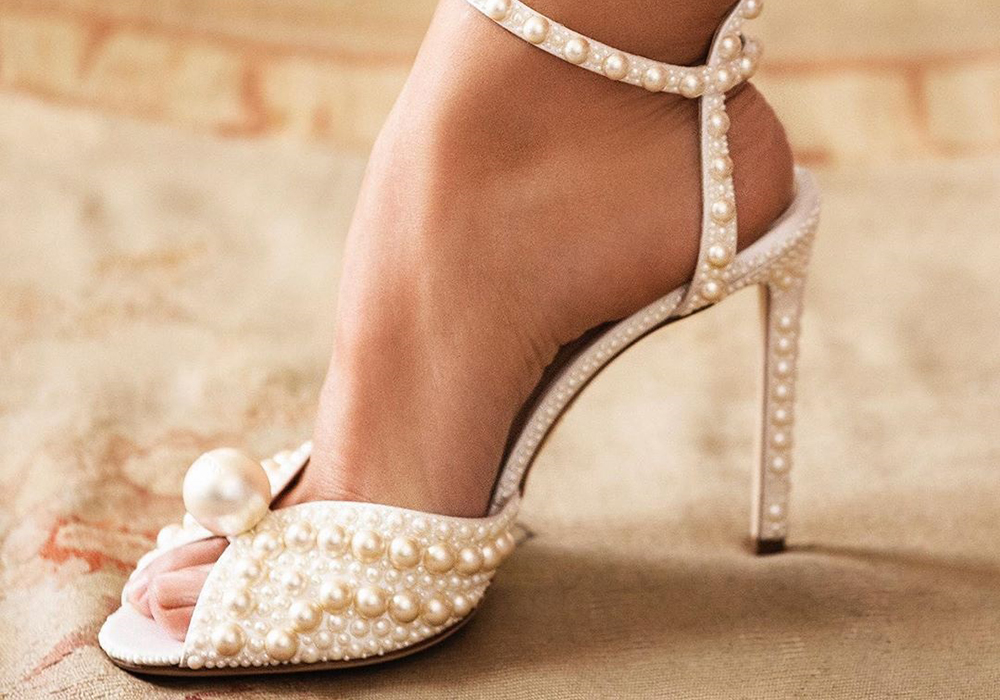 If money were no object and we could pick any bridal shoes to glide down the aisle in, we'd choose a pair of Jimmy Choo wedding shoes every time.
Walking the line (see what we did there) between elegant and sexy, the designer's bridal collection is utterly refined yet has a style to appeal to every bride whether you want skyscraper heels or a pair of chic flats.
Of course, they don't come cheap, but if any occasion in life calls for a pair of treat yo'self Jimmy Choos, it's surely your wedding.
And if your budget won't stretch that far, there's still no harm in looking, is there?
Here's our edit of the 10 most covetable pairs of Jimmy Choo wedding shoes.
Sacora 100
Jimmy Choo 'Sacora 100' (£1,395)
The 'Sacora 100' shoe has been a low-key obsession of the Scottish Wedding office since it was first released. The vintage shape; the pearl detailing; the jumbo pearl that rests above the V-cut peep toe. It's perfection.
Bobbie 100
'Bobbie 100' is super sleek and glamorous, with a delicate cross strap buckle fastening and an additional crystal strap for added sparkle. The heel is just shy of four inches, so it'll give you decent height too.
Baily Flat
Jimmy Choo Baily Flat (£1,850)
There's a misconception that flat wedding shoes are a bit dowdy or boring, but the Baily flats are anything but. Encrusted with crystals and pearls and sporting a pointed toe and sweet Mary Jane strap, these'll become your go-to party flats after the wedding.
Lang
One of the more purse-friendly styles (funny how quickly £575 becomes a barg, eh?), these strappy ivory satin sandals are perfect for spring and summer weddings. Good to know: the straps are elasticated for comfort and flexibility.
Viola 110
If your middle name is Extra then the Viola shoe's the gal for you. With its white ostrich feather tassel, opulent crystal embellishment and 4.3-inch heel, this is a statement bridal shoe that quite frankly deserves a photoshoot all of its own.
Love 100
The appropriately named Love shoes merge your something new with your something blue. The crystal trim leads to a sparkling blue necklace embellishment at the toe, complete with a cute pearl charm.
Bing 100
You may have noticed that the 90s revival brought about the return of the mule, and Bing is one of the classiest bridal mules we've seen. The patent leather fabric gives it a modern and sexy look, complemented by a crystal strap for a touch of added glam.
Aveline
If Carrie from SATC was a wedding shoe, she'd be Aveline. This streamlined sandal is given a serious dose of Parisienne chic by oversized, blousy crinoline bows which have been hand-tied and sewn on for a gorgeous feminine look.
Emily 85
You might be reluctant to splurge on white shoes when 1) they're difficult to keep pristine and 2) you might not get lots of wear out of them after the big day. That's where these babies come in. Made from a glittery fabric, they'll be wearable long after the wedding.
Romy 85
The intricately embellished Romy shoes are a work of art, crafted from suede and coated in crystals in varying sizes. The material is similar in style to the Viola and Baily shoes, with a price tag to match, but the rewearability factor is high!
Jimmy Choo shoes are available to buy online and are stocked in Scotland at Harvey Nichols, Edinburgh
Our edit of the best bride and bridesmaid pyjamas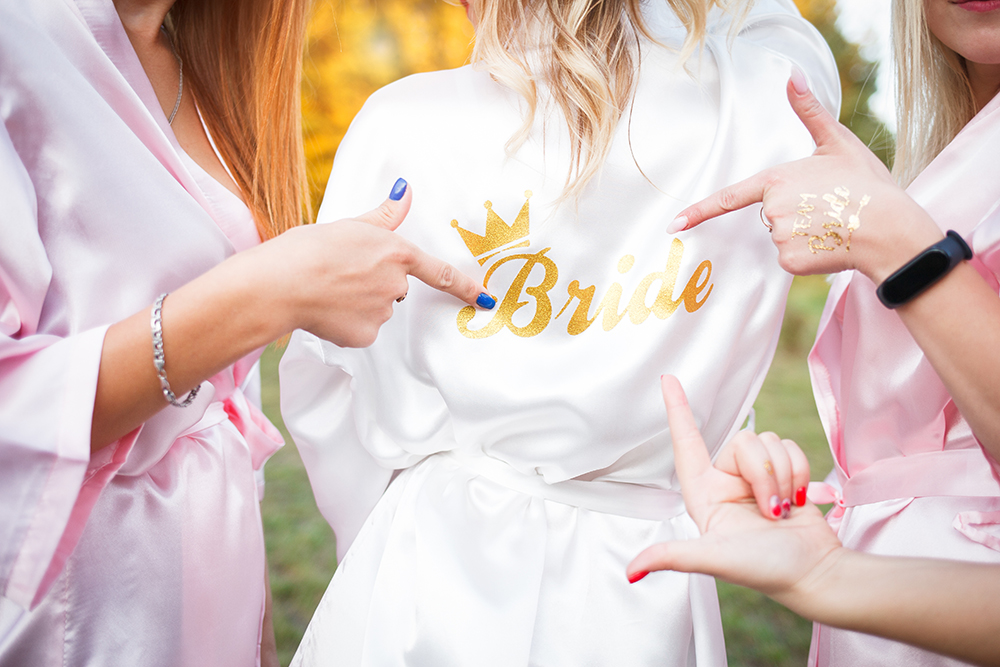 Whether you're looking for bride and bridesmaid pyjamas so you and your bridesmaids can sport co-ordinated sleepwear for your hen party, or you want to make sure you're all matching when photos are taken on your wedding morning, one thing's for sure: you won't be stuck for choice!
Over the past few years, there's been an explosion in the availability of slogan bride and bridesmaid PJs (blame it on the pressure to look good for the 'gram).
You can now buy everything from cute Team Bride pyjama sets to chic bride and bridesmaid dressing gowns for every member of your bridal party.
We've scoured online retailers to find some of the sweetest bride and bridesmaid PJs, dressing gowns and even eye masks, all available to buy in the UK.
Here's our edit of the cutest bridal sleepwear for you and your squad.
BRIDE PYJAMAS AND ROBES
Disney Belle Bride To Be Pyjamas (£22) Boohoo
Sucker for all things Disney? Beauty and the Beast fans will love this set, which features Belle on the tee and the enchanted rose glass on the shorts. It's available in sizes small and medium, and if Belle's not your bag there's a Cinderella version too.
White satin bride pyjamas (£18) Missguided
Not everyone wants to be prancing around in a tiny pair of shorts. If you'd rather have a PJ set that comes with trousers, they don't come much classier than this elegant satin ensemble from Missguided, which is available in sizes 6-14.
Button-through short bride pyjamas (£16) Matalan
Matalan always comes up trumps when it comes to cute wedding goodies that won't break the bank. This chic white set with black piping has the word 'Bride' embroidered on the back. It's available in sizes XS through to Large, and there are even bride sliders to match.
Ivory bride pyjama set (£26) Debenhams
Looking for something a bit shorter and slinkier? This sweet lace-trimmed camisole with matching shorts could be the one for you. It's available in sizes 6-18 and at the time of writing it's actually on sale for £18.20, down from £26.
'Wedding planning in my sleep' bride pyjama set (£29.95) notonthehighstreet
Who says you have to wait until the hen or the night before the wedding to don a pair of bridal jammies? If you're a bride-to-be then chances are the statement on this vest top applies to you right now, so go ahead and treat yourself to a pair you can enjoy during the run-up to the big day.
Ella Icy Blue Robe (£20) Love Lei
Chances are when you've been looking through other people's wedding photos you'll have spotted a fair few snaps of brides with their bridesmaids in matching floral dressing gowns. Love Lei has a gorgeous selection of robes which can be personalised with everyone's names.
Personalised bride pyjamas (£23) Etsy
If you're a plaid PJ gal through and through then there's no need for that to change when it comes to your bride pyjamas. This cosy set from Etsy can be personalised with your future married name (if you plan on changing yours) and come in a gift bag, which means it's perfectly acceptable to ask your OH to buy them for you.
White foil slogan bride pyjamas (£10) Asda
Asda has a decent range of budget-friendly bridal pyjamas, and this rose gold foiled set is our fave. It comes in sizes 4 to 22 and there are also matching sets for your bridesmaids which say Bride Tribe on them.
White bride 'I do' slogan romper (£12) Pretty Little Thing
Something a bit different, this grown-up romper made from jersey fabric has an 'I Do' slogan print on the back. And because you won't have to pull it over your head to put it on, it's ideal for when you're getting your hair and make-up done.
Satin bride eye mask (£10) ASOS
If you think nerves and excitement will prevent you from getting a good sleep the night before the wedding, get yourself into full relaxation mode with this cute eye mask. Add a sleep-inducing pillow spray into the mix and you'll be nodding off in no time.
Bride dressing gown (£18) John Lewis
You might know Ginger Ray for its range of wedding decor items, but it also has a selection of wedding sleepwear. This cute white robe says 'Bride to be' in pink lettering and comes in one standard size with a tie waist fastening.
BRIDESMAID PYJAMAS AND ROBES
Bride's squad satin PJ set (£18) Boohoo
Bridesmaids can mark out their role as a member of the bride's squad in this cute satin PJ set in rose gold with black piping. It comes in sizes 6 to 16 and is also available as a shorts set for those who would prefer that to trousers.
Blush bridesmaid dressing gown (£28) Missguided
This peachy satin kimono-style short robe is plain at the front with 'Bridesmaid' embroidered on the back. It comes in sizes 4 to 18 and is just one of a number of wedding-related sleepwear items available at this online retailer.
Bridesmaid slogan nightie (£7) Matalan
Nightie crew, this one's for you! This short-sleeved nightie features 'Bridesmaid' in rose gold foil and comes in sizes small to extra large. Got wee ones in your bridal party? There's an adorable kids' version too for girls aged 4-13 years.
Pink satin bride squad PJ set (£18) Pretty Little Thing
This pale pink satin short pyjama set has a 1950s' diner vibe with 'Bride Squad' embroidered on the front pocket. It comes in sizes 6 to 16 and can be paired with a matching slinky dressing gown for a full look.
Pale pink bride squad t-shirt (£8.99) New Look
It's not strictly nightwear, but this bride squad tee could be worn with your favourite PJ bottoms. Alternatively, team with jeans and heels for a night out with the rest of the bridal party (or, indeed, the hen do!).
Bridesmaid lace trim kimono (£19) Boux Avenue
This elegant lace-trimmed robe with 'Bridesmaid' on the back is super pretty. But if you're not a fan of slogan robes and would rather wear something plain, Boux Avenue has a stylish selection of plain satin robes; why not have the bridesmaids mix and match?
Freya Rose gifts pearl earrings to engaged NHS staff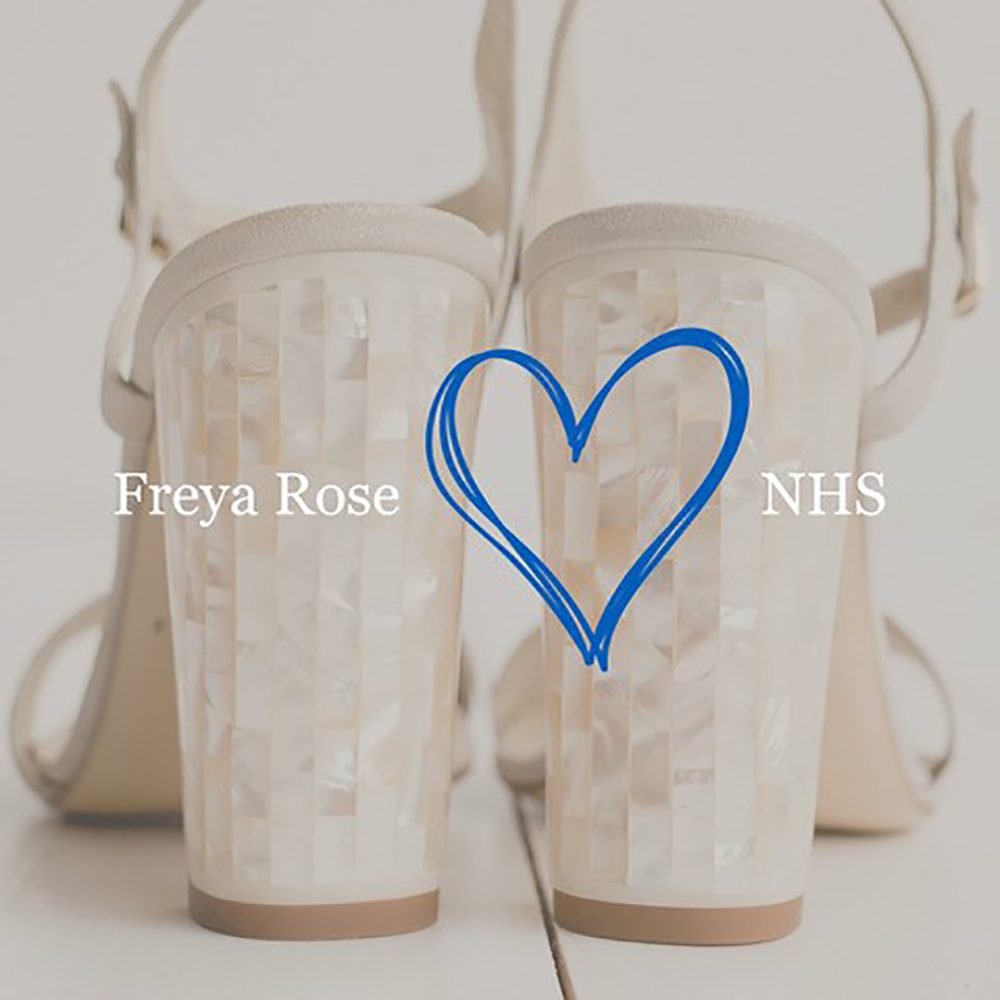 To show their love and appreciation for those in the frontline services the lovely people at Freya Rose started the campaign to gift a free pair of freshwater pearl earrings to anyone who is engaged in the NHS.
They hope to spread a little joy and are also giving all those in the NHS a 30% discount, via their blue light cards.
Freya Rose started the gifting on instagram, writing, "It's a difficult time for everyone across the country right now and the people keeping us all going through everything are our beloved NHS.
"We want to say thank you to the brave and extremely hardworking staff who are the true heroes of the moment, which is why we're offering 30% off everything in our online store for everyone currently working on the frontline.
"On top of this, we're giving away a free pair of Freshwater Pearl earrings to anyone in the NHS who is/was due to be married this year – tag anyone you know and let's spread some love ❤️"
They have been inundated with heartwarming messages.
One NHS worker wrote: "Afternoon you wonderful people!!
"Just spotted your Instagram post regarding NHS brides.
"I am/was getting married on 8th August.
"I don't know what is happening yet as I haven't had time to sit and think about it too much.
"I work in the NHS in an acute hospital and I feel so incredibly lucky and proud to do so.
"I work with an awesome team of strong women (and two pretty awesome men) and I love that at the moment I am able to go to work and help people.
"However I am tired. I am confused and scared about what is happening, and as I write this tears are falling as it's dawning our wedding may not happen (minor in the scheme of the world, but huge for us).
"Thank you for your post and the discount.
"It means so much. Sorry for waffling on a bit. Writing this was a bit more cathartic than I thought."
CHECK OUT ALL THE MESSAGES OF LOVE ON FREYA ROSE'S INSTAGRAM HERE
Trendwatch: Rainbow Club's watercolour collection
'Reese' (from £85), in colour 570
Watercolours are having something of a moment this coming season with soft hues and florals dominating the catwalks in New York.
Oscar De La Renta, Vera Wang and Monique Lhuillier featured shades of blush pink, baby blue, dove greys, muted yellows and lavenders.
And you can get in on the trend with Rainbow Club. Their in-house team will hand colour your fave shoes from the collection to any watercolour shade you like.
So if you fancy a super sweet alternative to whites, creams and ivories the teams will create the perfect pair of heels you can wear beyond the big day.
Here's a some of our faves:
'Luciana' (from £95), in colour 770
'Carly' (from £85), in colour 720
'Darcey' (from £95), in colour 776
HAVE YOU FOUND YOUR PERFECT WEDDING SHOES YET?
HEAD TO OUR DIRECTORY TO BROWSE GORGEOUS W-DAY HEELS
Primark's done it again with budget-friendly wedding accessories (and they're cute!)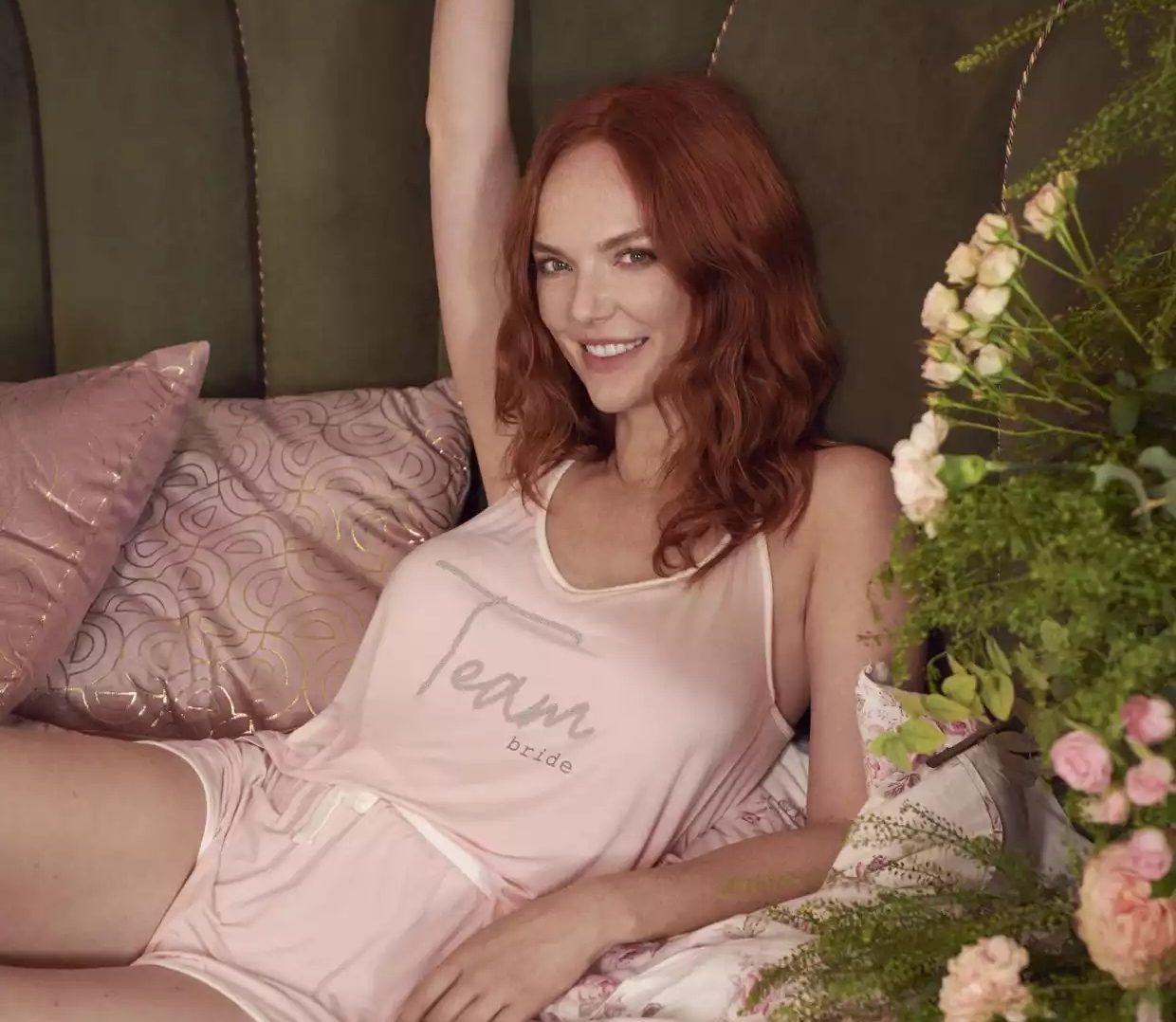 If you've got a few bridesmaids, you'll know how pricey it can get to buy three, four or five of everything for the wedding; step up Primark, with gorgeous night before the wedding PJs for them and you, plus loads of lovely pre-wedding accessories for your hen do.
Take a peek at our picks…
Rainbow Club + John Lewis team up for brand new bridal shoe collection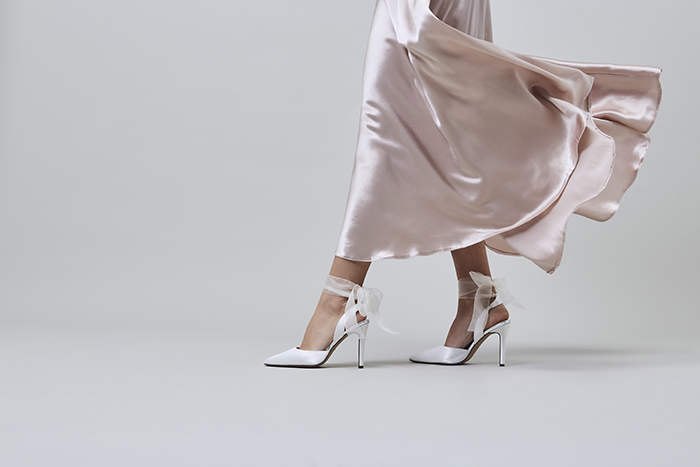 Bridal accessories designer Rainbow Club and high street giant John Lewis have teamed up to create a beautiful new shoe line for brides who want their wedding shoes to have plenty of personality.
The collection features chic, modern silhouettes paired with fun embellishments like silky bows and sparkly brooches.
The shoes will be available exclusively on the John Lewis website from Saturday 15th February.
Here's some of our favourites from the new Rainbow Club X John Lewis collection… 
'Cora' (£125) johnlewis.com
'Fifi' (£99) johnlewis.com
'Fifi' in blue (£99) johnlewis.com
'Ida' (£125) johnlewis.com
'Ida' in emerald (£125) johnlewis.com
'Monroe' (£85) johnlewis.com
'Pandora' (£85) johnlewis.com
Take a look at these wedding trainers you can customise from Converse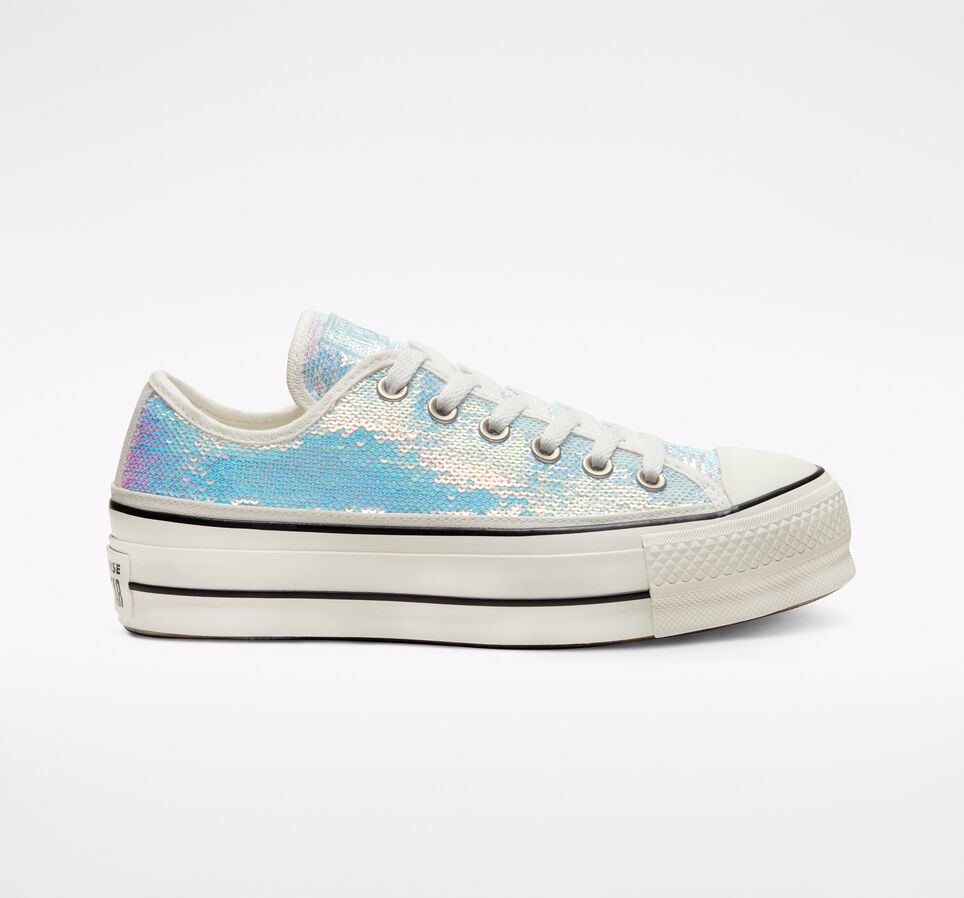 Finding your perfect wedding shoes is a hard task – especially if you're banking on dancing the night away after vows have been exchanged.
Well, that hunt just got a little easier, with the release of US shoe brand Converse's new wedding collection.
The retailer has a huge selection for both brides and grooms, from iridescent high-tops to a pair of black low-tops with a red rose motif on the heel. 
Galaxy Dust Chuck Taylor All Star 
Mini Sequins Chuck Taylor All Star Platform 
Custom Chuck Taylor All Star Floral Embroidery Low Top
You can even add a little height to your bridal look, with the brand's popular platform trainer now available in an aisle ready luxe white.
Chuck Taylor All Star Leather Platform Low Top
For those looking for truly bespoke footwear, the brand's new wedding range is completely customisable to make your wedding shoes one-of-a-kind.
You can create your very own pair of Converse almost from scratch, choosing from a selection of patterns, colours and materials, finishing with colourful shoelaces, motifs and wording – why not add your new married name and wedding date?
Order early, as delivery can take a few weeks.
Prices start from around £55.
PLANNING TO BREAK IN THOSE WEDDING SHOES?
Dune's 2020 bridal shoe collection has landed (and it's amazing)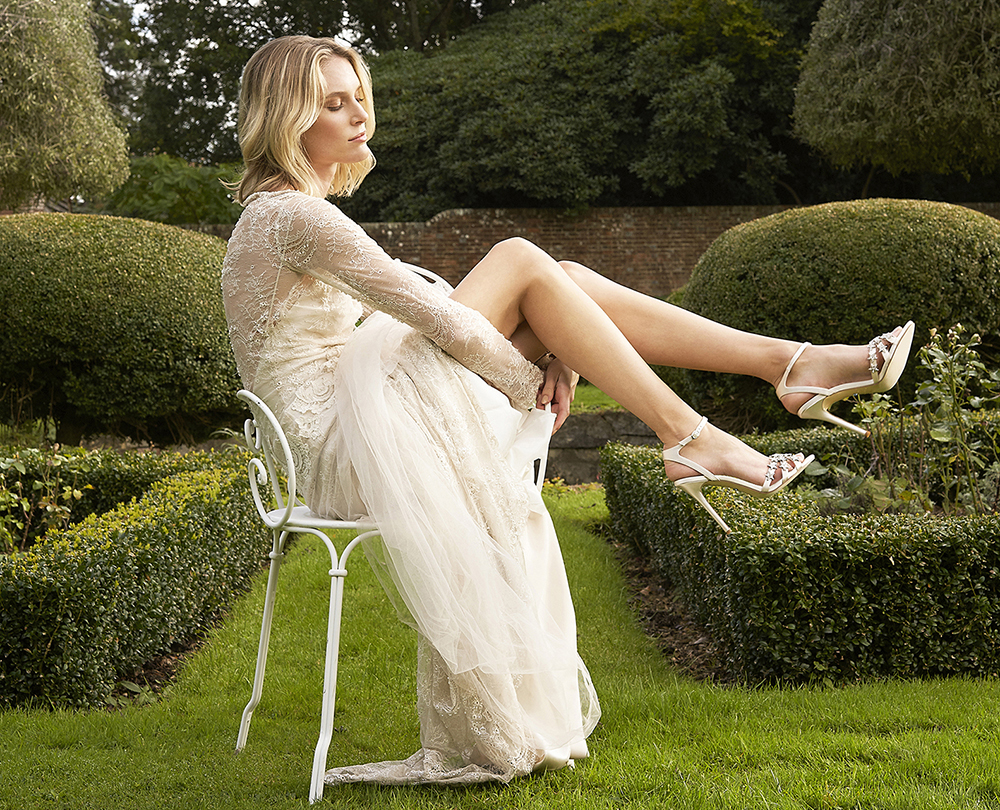 As we step with trepidation into the bleakest month of the new year, let's hear it for Dune, which has just launched its 2020 collection of bridal shoes so that at the very least we can stroll into January – and down the aisle – in style.
The 20-piece ivory satin footwear range has a style for every bride, from elegant courts to 70s-inspired platforms and two-part mules, all enhanced by gorgeous embellishments such as diamante-encrusted stars or pearl detailing.
Rather sweetly, a blue stone is nestled in the sole of each pair, so you'll have your something blue and something new sorted.
There are also matching clutch bags which, like the shoes, are beautifully embellished.
Here are some of our highlights from the Dune wedding shoe collection, which is available exclusively online.
DUNE WEDDING SHOES: THE SCOTTISH WEDDING EDIT
'Clarette' pearl and crystal mid-heel bridal shoe (£150)
The ribbon ankle strap on this shoe is adorned with pearls and crystals, and a comfortable heel height (8cm) means they'll be a breeze to dance in.
'Markles' pearl-embellished high heels (£250)
Hand-embellished with delicate seed pearls from its heel to the cross straps, it's only fitting that this shoe was named after our fave royal.
'Marion' embellished strap high heel bridal shoe (£120)
Understated and sexy, the Marion shoes are subtly sparkly and would perfectly complement a slinky wedding dress.
'Mine' jewelled block heel shoe (£120)
Bridal shoes with block heels have been popular for a few years now, and with good reason: they're extremely wearable. And that needn't mean boring, as the jewelled heel on 'Mine' proves.
'Mary' star-embellished high heel (£140)
The celestial wedding trend shows no sign of waning. Have the sky at your feet with these stylish star-encrusted bridal shoes.
'Corsage' T-bar bridal shoes (£140)
These designer dupes have a jewelled T-bar strap, chic pointed toe and diamante buckle. Classy af.
23 of the best wedding dress shops in Glasgow 2019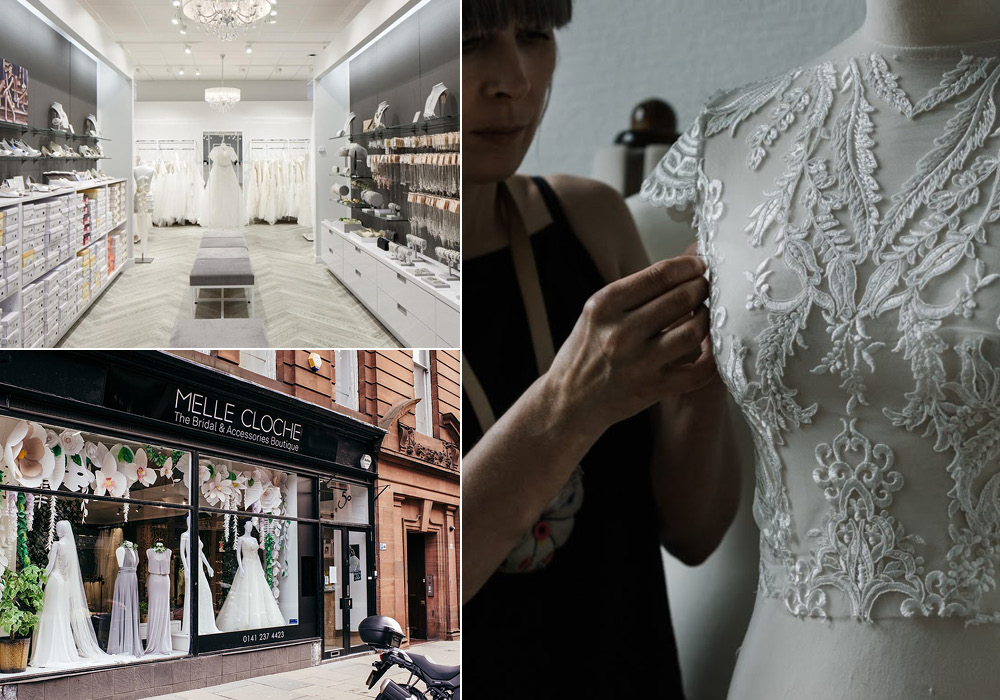 Finding your wedding dress has got to be one of the best moments of your life. If you're starting your journey in Glasgow and the surrounding area, then start with this list!
There are lots of beautiful bridal boutiques in Glasgow, and we've even listed some that are within a one hour radius incase you want to take you search further afield.
Some of the content in this post is paid-for. 
DAVID'S BRIDAL
A one-stop shop for your bridal dreams, this beautiful bridal shop in Glasgow's Braehead Shopping Centre has a huge range of styles and sizing for all different kinds of brides.
A fabulous team of trained stylists will greet you on arrival. "We want you to be the be the best version of yourself on your big day," says Star Stylist Rachel Brown. "We'll ask loads of questions about you and your wedding to ensure you have a successful appointment, and that the dress fits your personality."
Once you find your gown, the in-store alterations team will make sure that it fits like a dream.
David's Bridal is open seven days a week. Appointments can be made online.
David's Bridal stock: Galina Signature, Melissa Sweet, Oleg Cassini and Vera Wang.
Visit David's Bridal Glasgow's website | t. 0141 8852121
FLOSSY AND DOSSY BRIDALWEAR
"Lots of our brides have told me that having their dress made was the least stressful part of their wedding," says Flossy and Dossy Bridalwear owner Wendy Harman. High praise indeed for this Glasgow bridal dressmaker.
All wedding dresses are designed, cut and created for each bride, made-to-measure, so you can be assured that no other bride will have the same gown.
Visit the friendly and relaxed studio to chat over the design of your dress, and for all of the fittings.
It's not just dresses either; Wendy has created jackets and capes for brides, and stocks beautiful veils and accessories by Modiste.
Prices for dresses start from £1200. Appointments are necessary.
Visit Flossy and Dossy Bridalwear's website | t. 07768684077 
JUNE BRIDES GLASGOW
Mother and daughter team Carol Anderson and Hollie Barclay own this Glasgow bridal shop, just outside of the city centre.
You can expect the perfect bridal experience at this boutique, with luxury surroundings, complete privacy and over 30 years of experience, helping you to create your dream bridal look.
Carol and Hollie will be delighted to help you create a gown that is perfect for you with bespoke customisation. After the day, you'll also get full aftercare service which includes repair, dry cleaning and boxing service.
Make your shopping experience even more special by booking a high tea platinum appointment for you and up to four people.
June Brides Glasgow stock: Casablanca, Cosomobella, Demetrios, English Rose, Ivory & Co, Lou Lou, Louise Bentley, Lusan Mandongus, and The Eternity Group.
Visit June Brides Glasgow's website | t. 0141 4294162 | e. info@junebrides.co.uk
MELLE CLOCHE
Owners Jacqueline and Lisa welcome you to stylish Melle Cloche in Glasgow's Merchant City for a relaxed and effortless wedding dress shopping experience!
"We're not really a fluffy Say Yes to the Dress kind of shop – that doesn't mean we don't crack open the prosecco and do a few boomerangs when you find the one – but we prefer a more laid-back, honest, no pressure environment for our brides," says Lisa.
The shop has an in-house alterations service and beautiful accessories, which can be bought in-store or online.
Take advantage of their VIB (Very Important Bride) appointments and have the shop to yourself, including fizz and cakes.
Standard appointments are free and the VIB appointments are £20, which is deducted from purchases.
Melle Cloche stock: Agata Wojtkiewicz, Aire Barcelona, Eddy K, Rosa Clara and Sottero & Midgley.
Visit Melle Cloche's website | t. 0141 2374423 | e. hello@mellecloche.com
SARAH LOUISE BRIDAL
You can be sure of first class service at this fun and friendly Glasgow wedding boutique; owner Lorraine MacLennan and her staff have over 30 years' experience in the bridal industry.
"My staff go above and beyond to make our brides day one to remember. We actually feel so privileged to be part of her journey towards that special day," says Lorraine.
You can choose from a selection of accessories at Sarah Louise Bridal too, and take advantage of the in-house alteration service.
Appointments are necessary. Book a Sunday appointment for a more intimate experience.
Sarah Louise Bridal stock: Emma Charlotte, Justin Alexander, Ladybird, Luna Novias, Maggie Sottero, Morilee, Stella York and True Bride.
Visit Sarah Louise Bridal's website | t. 0141 3326060 | e. info@sarahlouisebridal.co.uk
THE BRIDAL COURTYARD
Located on St Andrew's Square in Glasgow, this affordable and friendly bridal boutique is a must-visit.
The team at The Bridal Courtyard welcome brides with a smile, and really take time getting to know exactly what you're looking for.
Recognised as one of the top bridal retailers in Glasgow for the third year running, The Bridal Courtyard strive to provide exceptional customer experiences.
As well as stunning dresses, you can also take advantage of their alterations package, so you don't have to worry about taking the gown to be altered elsewhere.
Email or call to arrange a time to visit The Bridal Courtyard.
The Bridal Courtyard stock: Casablanca, Justin Alexander, Kenneth Winston, Nicole Spose and Phoenix Gowns.
Visit The Bridal Courtyard's website | t. 0141 2378680 | e. sales@bridalcourtyard.com
ANGELIQUE LAMONT BRIDAL
You don't have to make an appointment to pop into this bridal shop in Glasgow and browse their rails.
There's loads of beautiful gowns in-store, including petite and plus size ranges, plus accessories.
Visit Angelique Lamont Bridal's website
ANNE PRISCILLA BRIDAL
This deluxe bridal boutique is in the heart of Glasgow, and offers brides-to-be a wide selection of wedding gowns from hand-picked, curated designers, as well as an in-house alteration service.
Visit Anne Priscilla's website
ELEGANZA SPOSA
A leading luxury boutique specialising in high-end, couture bridal gowns, with dedicated, knowledgeable staff to help you find that special dress. Also home to Eleganza's very own bridal label, Eleganza Iconica.
Visit Eleganza Sposa's website 
GEORGINA SHEWARD
From gowns and dresses, alterations and dress cleaning, this bridal boutique in Glasgow's South side has everything you'll need for your bridal journey.
Visit Georgina Sheward's website
GLITTERATI DESIGNER GOWNS
You can choose from various designs from the Glitterati collections and then enjoy having your wedding dress made-to-measure, ensuring a perfect fit and reflecting your unique style.
Visit Glitterati Designer Gowns 
JOYCE YOUNG COLLECTIONS
The gowns from the Joyce Young Collection are designed by Joyce herself, and available as made-to-measure wedding dresses. The Studio Collection offers a curated range of dresses from European and Australian design houses.
Visit Joyce Young Collections website
NUTMEG COUTURE BRIDAL
Work with NutMeg Couture to bring your bridal dreams to life! Chat about your bespoke wedding dress made in Glasgow, or choose from their own collection.
Visit NutMeg Couture Bridal's website
REETA FASHIONS
This bridal retailer has been in Glasgow for 65 years, providing brides-to-be with excellent customer service and a range of high-end designers.
Visit Reeta Fashions website
THE BRIDAL SUITE
Sister company to The Finer Detail, this shop near the Fort Shopping Centre in Glasgow stocks a wide range of designers, and is appointment only.
Visit The Bridal Suite's website
WED2B GLASGOW
Hundreds of wedding dresses await in the Glasgow branch of WED2B. A wedding dress shop ideal for brides on a budget, dresses start from £599.
Visit WED2B Glasgow's website
~ WILLING TO TRAVEL? ~
These amazing bridal boutiques aren't quite in the centre of Glasgow, but they're all within a one-hour drive from Glasgow and definitely worthwhile visiting on your wedding dress hunt!
OPUS ATELIER
West Kilbride is home to Scotland's luxury bridal boutique, Opus Atelier. The professional staff are there to make your wedding dress dreams a reality.
Atelier brides have exclusive-use of the bridal salon for all appointments. The team, offer a complete service from sourcing, styling and creating bridal ensembles to altering, modifying and customising gowns.
Sharon McPherson, the owner and in-house designer, offers a bespoke service.
Weekend appointments cost £35, which is deductible from the cost of purchase. Trunk show appointments cost £50 and entitle brides to a 10% discount on all purchases.
Opus Atelier stock: Badgley Mischka, Berta and Pronovias Atelier Collection.
Visit Opus Atelier's website | t. 01294 829264 | e. hello@opusatelier.com
OPUS COUTURE
Award-winning bridal boutique Opus Couture is in the coastal village of West Kilbride. You can expect a warm welcome with friendly, experienced consultants offering a one-to-one service.
"We have a phenomenal choice in-store, and an extensive collection of bridal styles and sizes available to try," says owner Sharon McPherson.
Opus Couture carry an extensive range of veils and bridal accessories to complement your chosen dress. All fittings and alterations are carried out in-store too.
Appointments at Opus Couture are necessary, and are free of charge with the exception of a special Sunday fitting service, which costs £20.
Opus Couture stock: Enzoani, Enzoani Blue, Maggie Sottero, Pronovias and San Patrick.
Visit Opus Couture's website | t. 01294 824838 | e. hello@opuscouture.com
BIBBIDI BOBBIDI BOO BRIDAL BOUTIQUE
This bridal shop is based in the village of East Kilbride.
You'll find gorgeous gowns here from various designers as well as accessories.
Visit Bibbidi Bobbidi Boo Bridal's website 
BIJOUX BRIDAL BOUTIQUE
The bridal experts at this boutique in Hamilton, South Lanarkshire, will help you find a dress that's perfect for your shape, style and budget.
Visit Bijoux Bridal Boutique's website 
CKS BRIDAL
This premium designer dress boutique is located in Falkirk. You'll find lots of fantastic designers here, as well as a great team to help you find The One.
Visit CKS Bridal's website
IVORY PINKS BRIDAL
The mother and daughter team at this stylish Bothwell boutique offer a unique, friendly service during your appointment.
Visit Ivory Pinks website
THIS YEAR'S LOVE BRIDAL BOUTIQUE
A family-run business based in Hamilton, South Lanarkshire, this wedding dress shop has a range of gowns from £800.
Visit This Year's Love Bridal Boutique's website
Make sure you check out our online directory for wedding suppliers near you!