How to care for your engagement + wedding rings
We ask the experts how to show your engagement and wedding rings the TLC they deserve.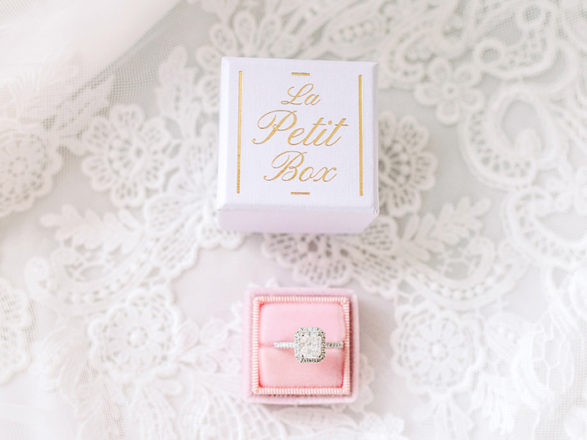 It's a question you probably don't consider too much in a busy time of wedding planning, but how do you care for your engagement and wedding rings?
Your engagement and wedding rings will be your most treasured possessions, but the daily wear and tear of life can leave your jewels looking less than dazzling.
We ask the experts how to show your engagement and wedding rings the TLC they deserve.
DO… GET YOUR ENGAGEMENT AND WEDDING RINGS CLEANED
IMAGE | The Girl with the Big Hair
"You shouldn't over-clean your engagement ring as you don't want to wear down the claws," says Rosalind from Sweet Rosie Jewellery.
"Have your rings professionally cleaned once every year or so and checked over at the same time."
Although you can give your rings a quick clean at home, it's recommended you go to a pro for a more thorough cleanse.
Often, the jeweller you got your rings from can either offer a cleaning service or recommend an external supplier to do the job.
"The jeweller will use a professional ultrasonic bath, which cleans all around the stones and into engraved areas.
"It will lift off things like excess soap build-up, which can sometimes cause dermatitis in sensitive skin," explains Jenny from Jenny Blossom Jewellery.
This is often when a jeweller can check the general wear of your ring too, by (for example) making sure the stone's claws are secure. This is especially important if you've got an older ring.
"If you have an heirloom engagement ring then it's worth taking it to a jeweller for advice on cleaning the stones and stone settings – it could require professional equipment," says Kathleen from Sheila Fleet –Scottish Designer Jewellery.
DON'T… SCRIMP ON INSURANCE FOR YOUR WEDDING OR ENGAGEMENT RING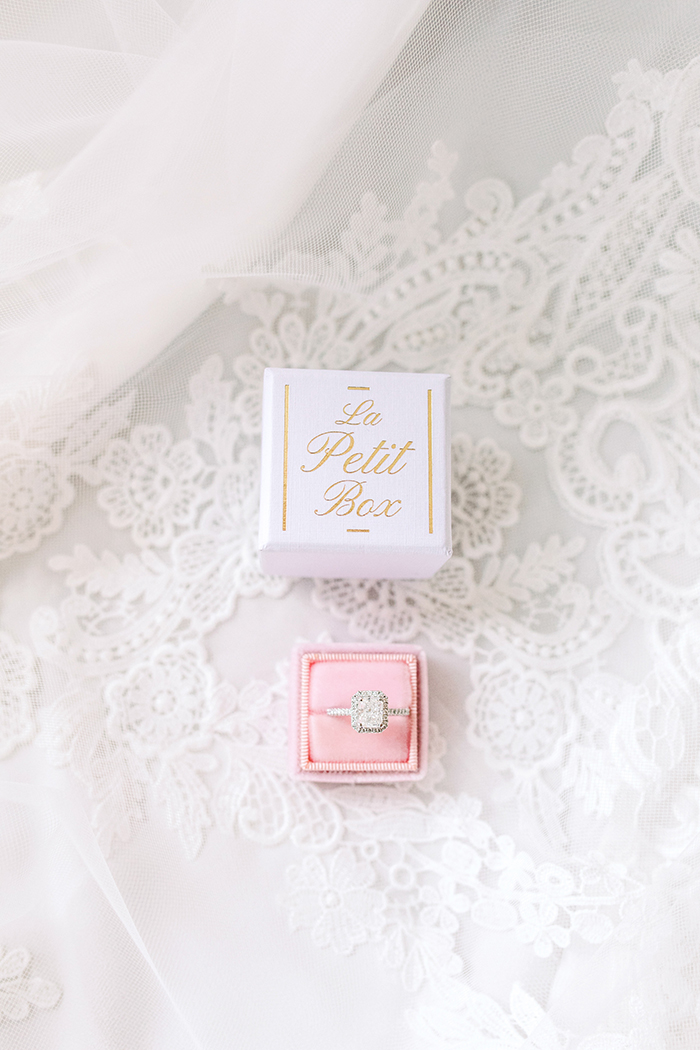 IMAGE | The Gibsons
Your engagement and wedding rings are among the most expensive and precious personal possessions you will ever own, so insurance is crucial.
First things first, find the right insurer.
"Shop around for single item insurance, as it doesn't have to be insured by the same company as your household insurance," says Jenny.
After selecting your insurer, make sure they know the exact value of your rings so that, if anything does happen to your rings, there is no dispute on what they'll cover.
They may have a threshold in place for single items, and if the value of your ring exceeds that threshold, you'll require a valuation certificate.
"This is often given with the receipt of your ring," explains Jenny.
"Alternatively, many jewellers offer a valuation service to help you get the appropriate documents."
DO… PROCEED WITH CAUTION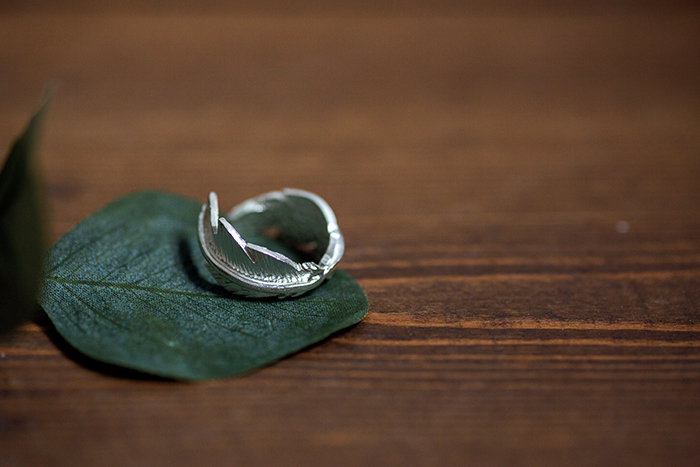 IMAGE | Feather ring (£40) Sweet Rosie Jewelley | Photographer: Eve Conroy
Your rings are made to be worn, of course, but be sensible when it comes to daily tasks.
"Take your rings off when washing dishes, doing DIY and whilst gardening to help prevent catching," says Rosalind. "If you have a manual job, it's advisable not to wear your rings when working as they could get easily damaged."
Substances such as household cleaners should also not be used near your jewels.
"Harsh chemicals, such as bleach, chlorine or acetone, can breakdown the base metals of rings and cause discolouration. Abrasive products, such as toothpaste, can easily scratch your metals too," says Jenny.
To protect your precious gems further, Kathleen shares a jeweller's secret trick.
"Have duplicates of your engagement ring and wedding band made in silver for everyday wear. Copies will look similar, but allow your high value, rare metal rings to be worn as dress rings," she explains.
But if that's not your style, Jenny says to embrace the ageing process.
"Learn to love your rings and watch them, with your marriage, grow old together," she smiles.
DON'T… FORGET ABOUT THE METALS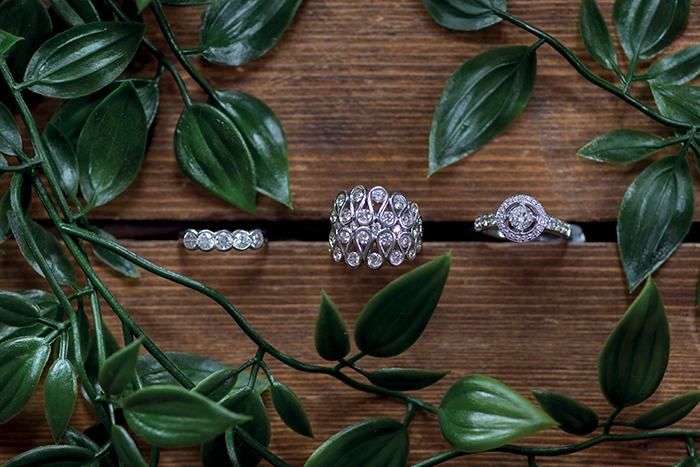 IMAGE | left to right: 'D32534' bespoke design ring (POA), John McKay Jewellers
18ct white gold 1.75ct diamond swirl dress ring (£2,970) Laings
'A34720' bespoke design ring (POA), John McKay Jewellers | Photographer: Eve Conroy
Choosing the right engagement and wedding ring is a whole lot more than simply picking what looks prettiest.
The metal they're made from plays a big role in deciding the best option for you and your lifestyle.
"Platinum is the most hard-wearing metal, with palladium coming a close second," says Rosalind. "If you go for 18ct gold, you should try to pick a platinum setting to hold your diamonds."
It's not just about the hardest wearing metals, either. Take into consideration what metals will wear well together.
"A platinum ring could damage an engagement ring or wedding band made in gold or silver as enamels, such as platinum, are a much harder metal," explains Kathleen.
Bear in mind that while palladium and platinum are popular choices due to their increased durability, they aren't exempt from scratches and changes in the metal's finish over time.
"Buying your rings from a jeweller who can polish your rings quickly is recommended, but when polishing out scratches, it also takes a layer of the metal away.
This process is best left for special anniversaries and occasions," says Jenny.
~ TOP TIP ~
HOW TO CLEAN YOUR ENGAGEMENT RING AT HOME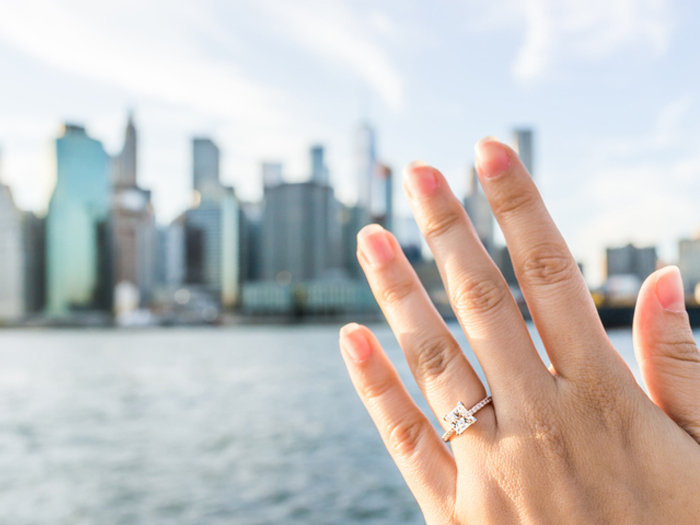 1. Make a solution with warm (almost hot) water and liquid soap.
2. Soak your ring for 20-40 minutes, gently brush the stone with a very soft toothbrush, and then rinse under warm running water.
3. If needed, repeat. Pat your ring dry with a soft cloth or allow to air dry.
~ DISH IT OUT ~
Keep your rings save with these cute trinket dishes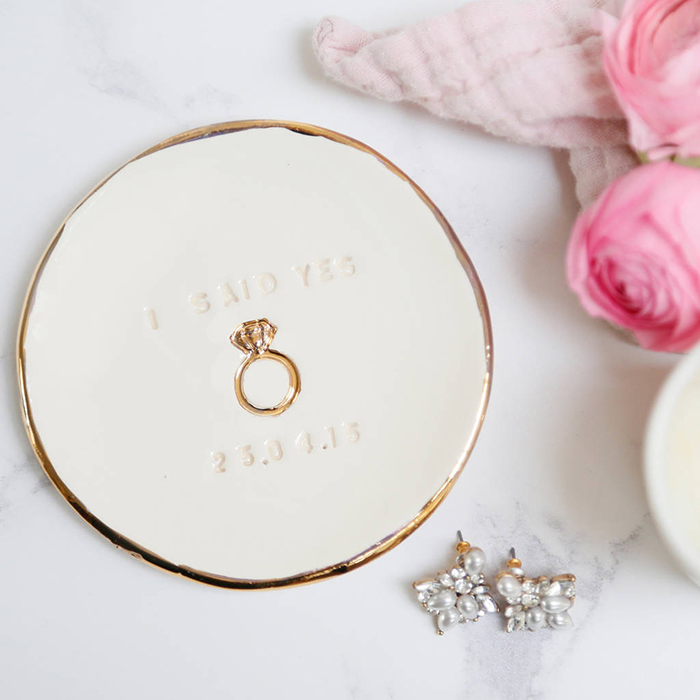 BUY | Personalised ring dish (£22)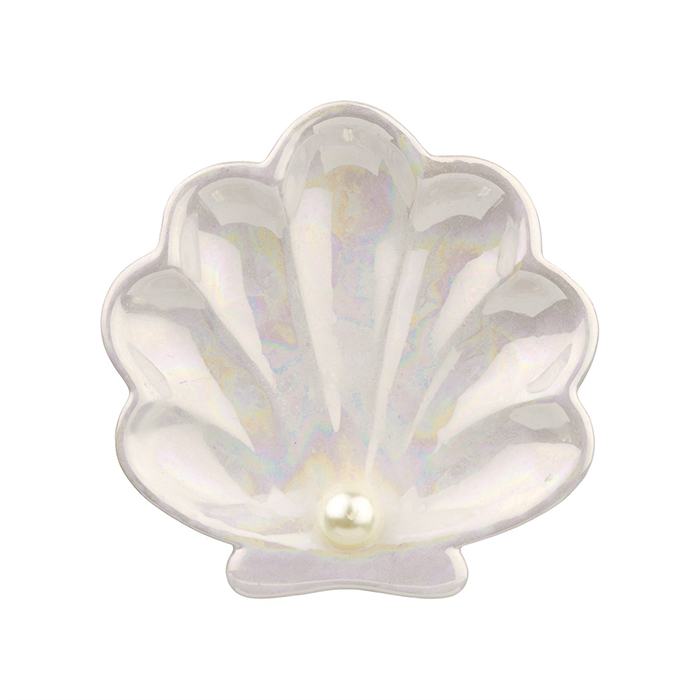 BUY | Mermaid shell trinket dish (£7.50)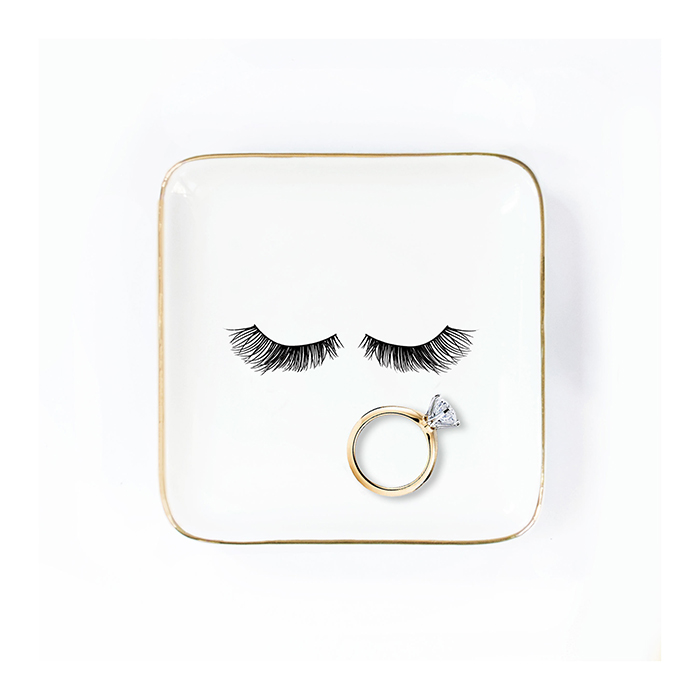 BUY | Lashes trinket tray (£6.46)

BUY | Little things trinket dish (£11)
STILL TO FIND YOUR DREAM WEDDING RING?