Meet four couples who designed their own wedding rings
Meet the brides and grooms who helped design their wedding rings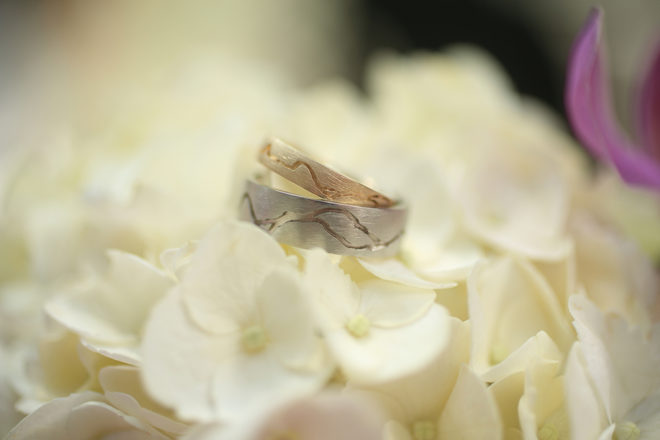 You're going to wear your wedding and engagement rings for the rest of your life – so shouldn't you have a say in how they look?
These four couples worked with their jewellers to get it just right…
~ HAYLEY + GORDON ~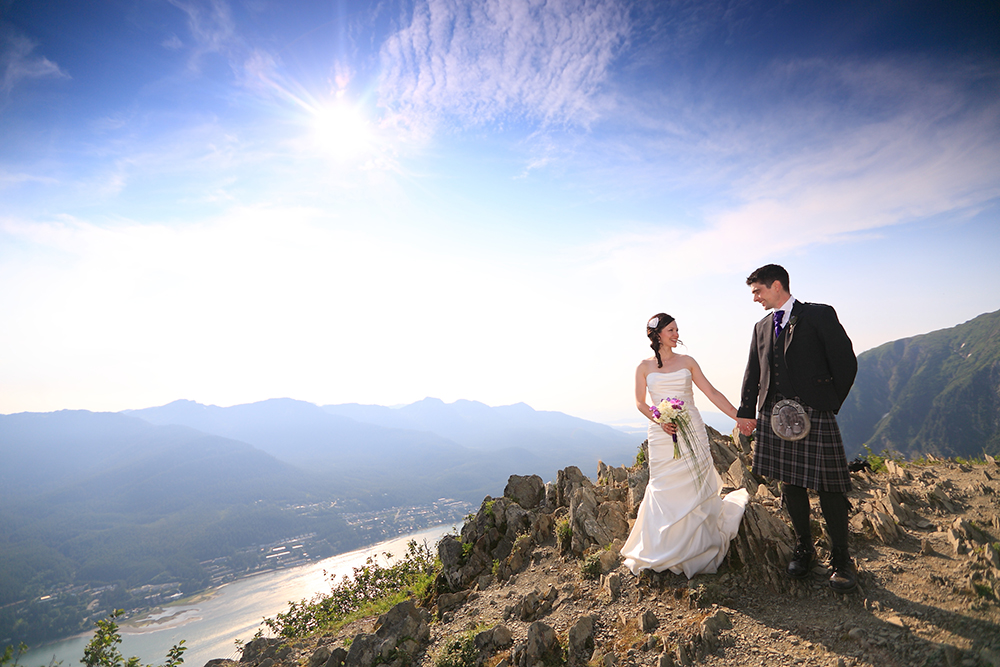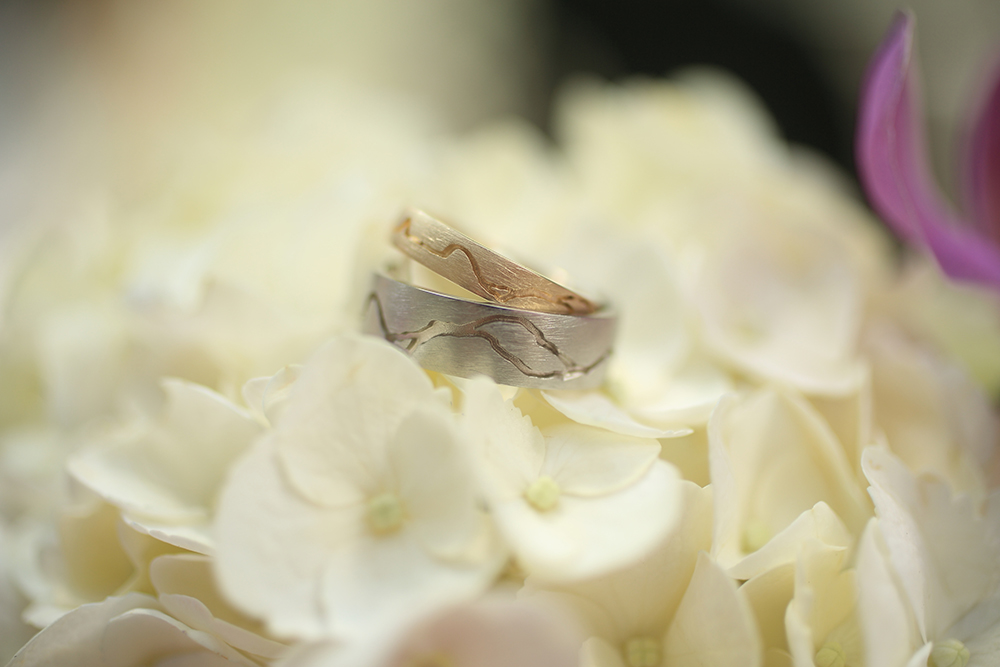 IMAGES | Chugach Peaks Photography
SWD graphic designer Hayley and her husband Gordon tied the knot in Alaska (they lived in Canada at the time), but are from Scotland, so wanted their rings to reflect their favourite haunts back home.
The couple decided their beautiful rings should include a journey line, tracing the silhouettes of special places in Scotland and Europe.
"We were both feeling a bit homesick and were missing a lot of things about Scotland.
Living in Canada, the winters are quite harsh and Nova Scotia's quite rugged. We found it more limiting and missed having all these lovely daytrips back home," says Hayley.
Working with the Fireworks Gallery in Halifax, they had the outlines of the Cairngorms, Loch Tay and Lake Garda drawn out and merged into one single journey line engraved into each ring.
And what makes the bespoke rings extra special is the secret detail they each contain.
"We both have a little diamond inside them to represent each other," says Hayley.
~ NICOLA + DAVID ~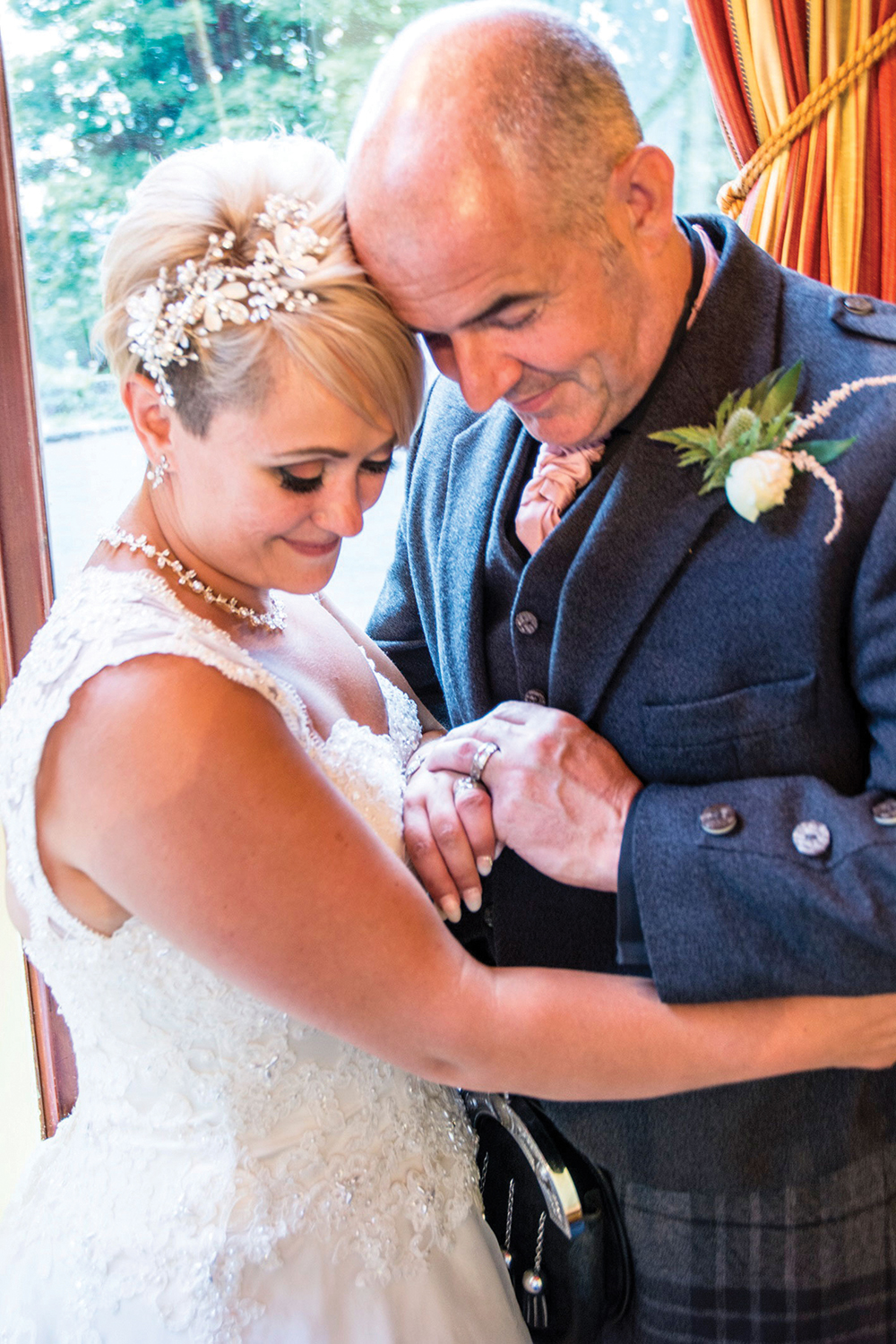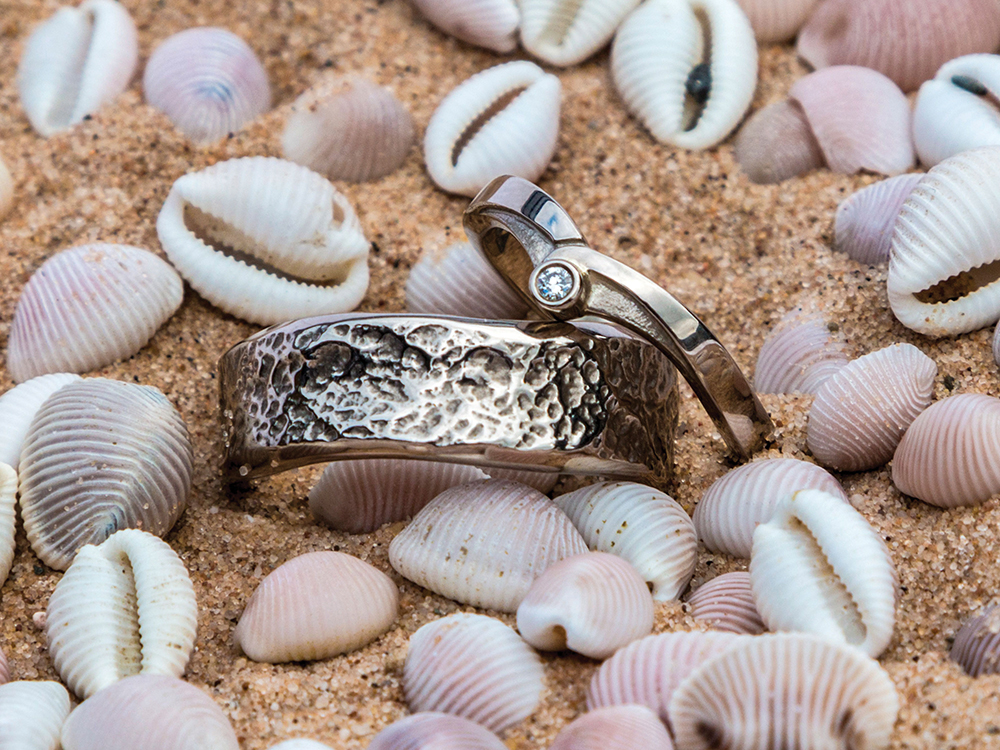 IMAGES | Ron Allner
Some people get to have a hand in the design of their wedding rings; others go one step further and actually pour the gold that goes into their bands.
David Burton was born and grew up on the farm where the Cononish mine near Tyndrum now stands, so when it came to choosing an engagement ring for his wife Nicola – and, subsequently, their wedding bands – only the mine's own white Scottish gold would do.
"It was the first gold that was poured at the mine and I was the one that poured it," says David.
Orkney jeweller Sheila Fleet had visited Cononish previously and was one of the recipients of its first batch of gold, so it was a case of perfect timing when David commissioned her to make the 18ct white gold rings.
"It was a great opportunity," enthuses David. "I was one of the first to have the rings made in the gold with Sheila. It was one of her existing designs, the Matrix rings, which she then adapted for us."
~ MEGAN + KERRANCE ~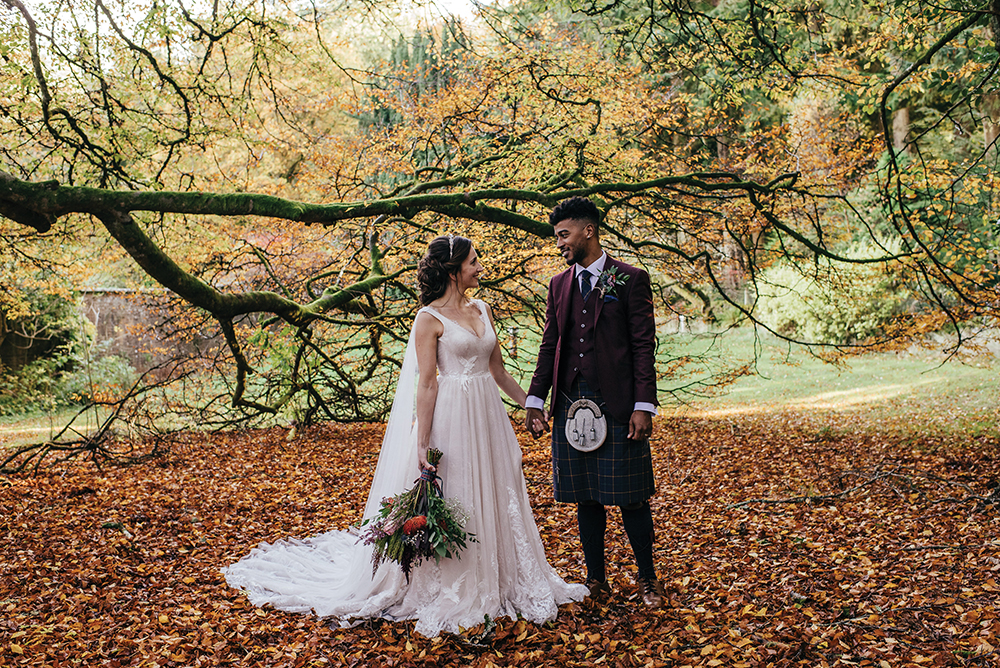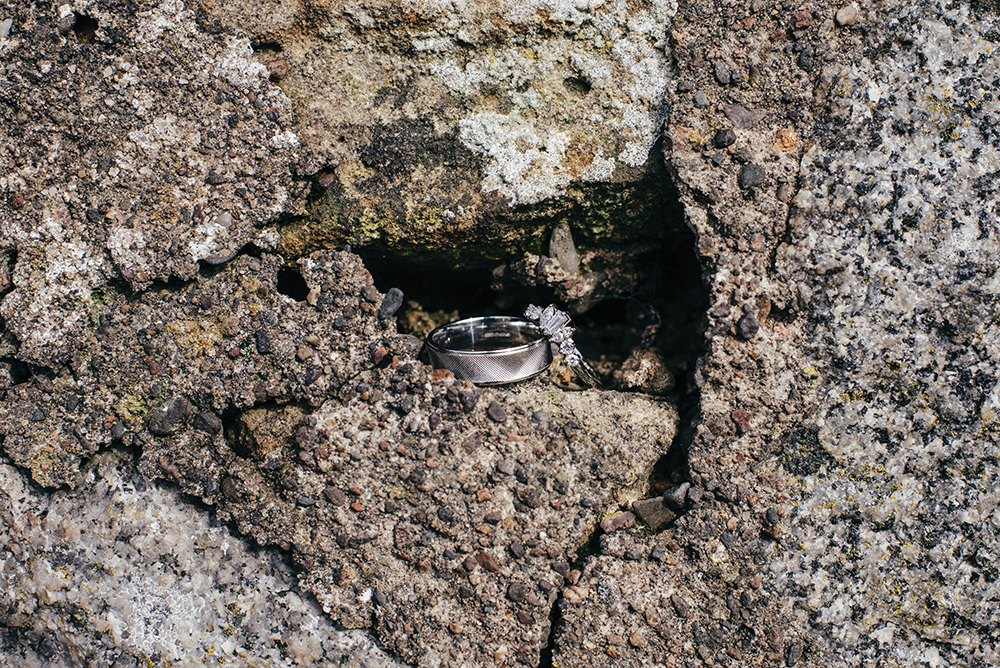 IMAGES | David Grant Simpson Photography
As the owner and designer of NutMeg Couture Bridal, it was only natural that Megan Pankay would want to turn her creative eye to designing her gorgeous wedding ring.
Megan's American other half Kerrence surprised her by popping the question with a family ring ("it was my nana's engagement ring; it was her diamond that my mum had set in a platinum band that she wore for years," explains Megan), and then the bride worked with jeweller Bercotts to create a wedding band to match.
While Kerrence chose a unique design from the jeweller's own collection, Megan started from scratch.
"I wanted it to look like a tiny tiara to complement my nana's gorgeous diamond," she says.
Working from a pencil sketch Megan had done, the jeweller made a cast of her engagement ring and then did a CAD drawing to show how the two rings would fit together.
They then placed her seven diamonds in a clear casing before setting one tapered baguette, four brilliant-cut and two marquise stones in platinum.
~ DAVID + DAVID ~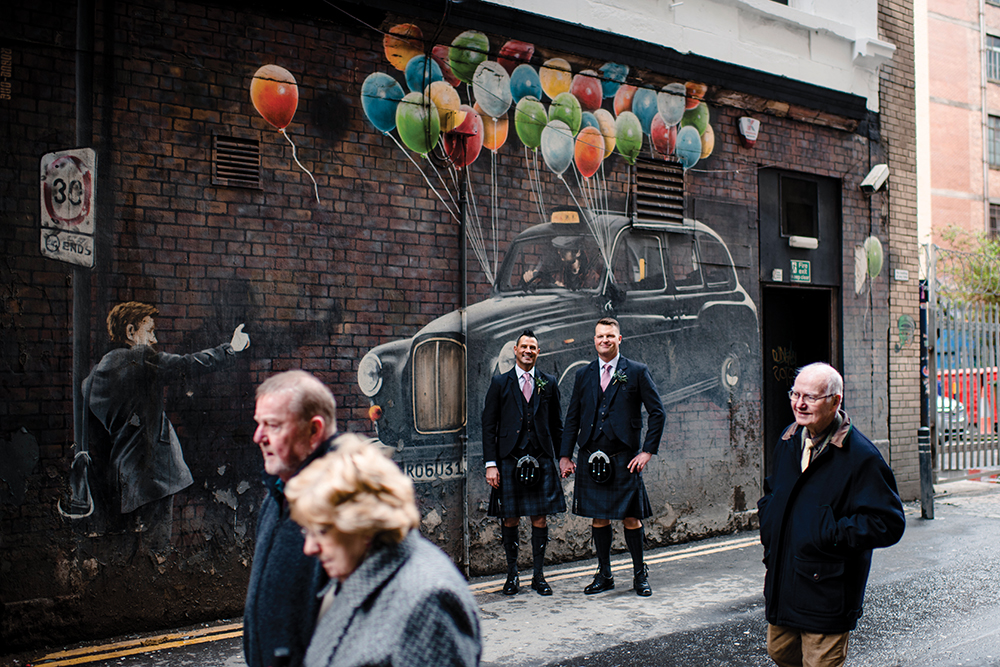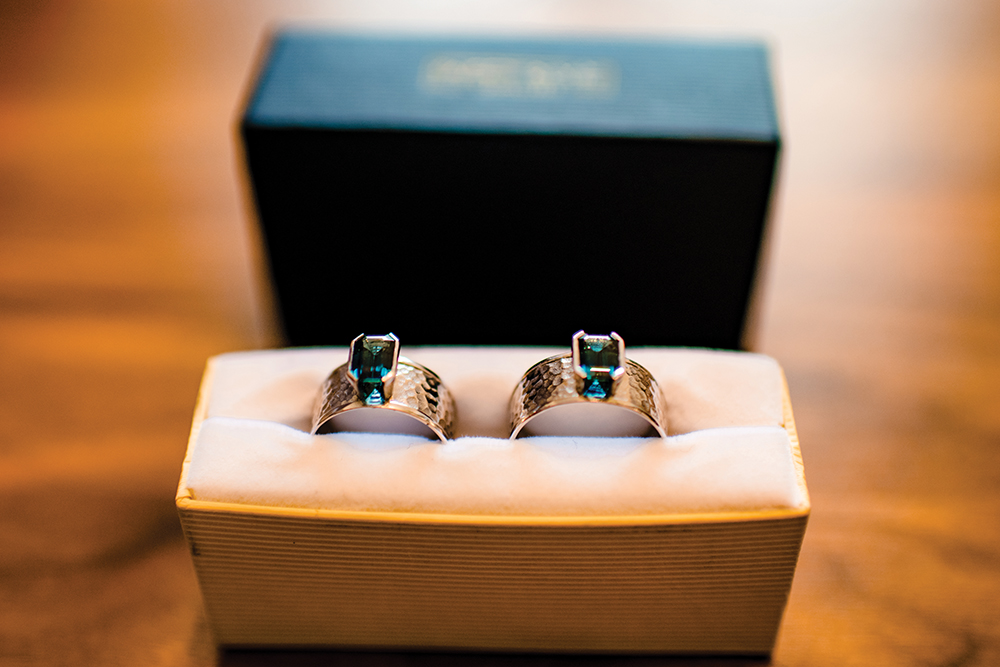 IMAGES | John Clark Photos
David Nicoll and his husband (also David) had been together nearly 10 years when they tied the knot on Tuesday 12th March at Glasgow City Chambers.
The couple kept their ceremony intimate before flying to Paris the next day to celebrate together. On their return home, they celebrated with everyone at the Corinthian on the Saturday evening.
The couple replicated the handfasting ceremony from their wedding for their guests, with their bespoke wedding rings by Sweet Rosie taking centre stage.
"I was more jewellery-orientated than David and I wanted something a bit different," explains David.
The couple chose matching hammered-finish bands, set with a distinctive sapphire.
"March was when we met and that month's stone is an aquamarine, but they are quite light blue so we went for a sapphire instead," he explains.
"People comment on how eye-catching they are and how the sapphires can look different in different lights."
And the fact that the rings match is significant for the couple.
"It shows a bit of unity," says David.
HAVE YOU FOUND YOUR PERFECT RINGS YET?