How to dress shop when it's not your first wedding
When it's not your first time walking down the aisle, are there any rules about what you should wear?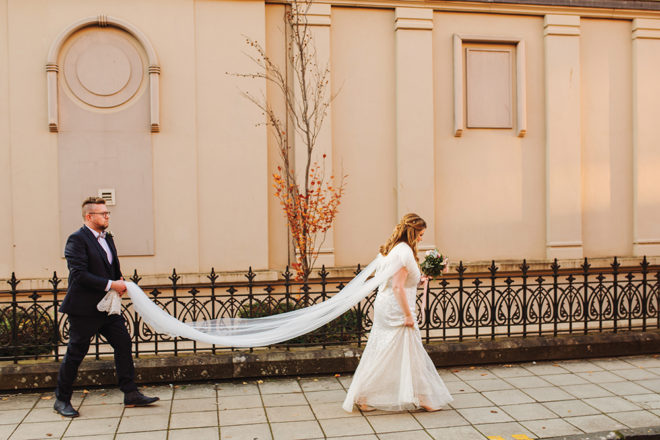 IMAGE | Laura A Tiliman Photography
Second weddings used to be loaded with stigma.
You couldn't have that on the menu because the groom had it at his last wedding, the best man had to be briefed not to make any reference to wife number one, and surely the bride wouldn't have the audacity to wear white when everyone knows she's no first-timer.
Brides who'd been here before, it seemed, were expected to be a bit less sparkly and steer well clear of the traditionally virginal hue.
Think Liz Taylor and her array of technicolour dresses for the seven marriages that came after the first (to be fair, we'd all be a bit bored of white by that point).
While sadly some of these preconceptions can still prevail, most people thankfully no longer care; a sea-change most joyfully proven by Meghan Markle, who wore not one but two white dresses for her second wedding.
In fact, Lindsay at Alison Kirk Bridal says that these days, most second-time brides don't feel any need to avoid the big white dress if that's the route they'd like to take.
"Your wedding dress is an expression of who you are," she points out.
"Why should that be any different second time around?"
While any rules about what second-timers can wear may have disappeared, Huda from Pan Pan Bridal says she finds that the majority opt for a more fitted silhouette or a soft A-line rather than a big gown.
They also tend to bring fewer family and friends to their appointment (perhaps because they have a stronger idea of what they like).
This holds true for Lindsay at Alison Kirk Bridal too, "I usually find these brides much more sure of what they are looking for and quite decisive."
So how should you approach dress shopping for your second trip down the aisle?
The key thing is to push any ideas of what you should or shouldn't wear to the side, have fun and treat it like the special experience it's meant to be.
"Keep an open mind," says Huda.
"Forget about first, second or third wedding.
"Just treat it as your first because the chances are most of the guests will be different than the first and, most importantly, the person you will marry is different.
"Wear what makes you look good and happy."
If you felt pressured into wearing a white dress the first time round when it wasn't really your thing, be emboldened by the fact that anything goes these days, whether you fancy wearing a jumpsuit or a canary-yellow minidress.
Lindsay gives the same advice to all brides, regardless of how many times they've been married.
"Book in advance, only bring two or three people with you whose opinion you trust to help you find your wedding dress, keep an open mind, and most importantly use the expertise and knowledge your bridal consultant has about the gowns.
"That is why she is there!"
~ HOW WE WORE IT ~
CAPED CRUSADER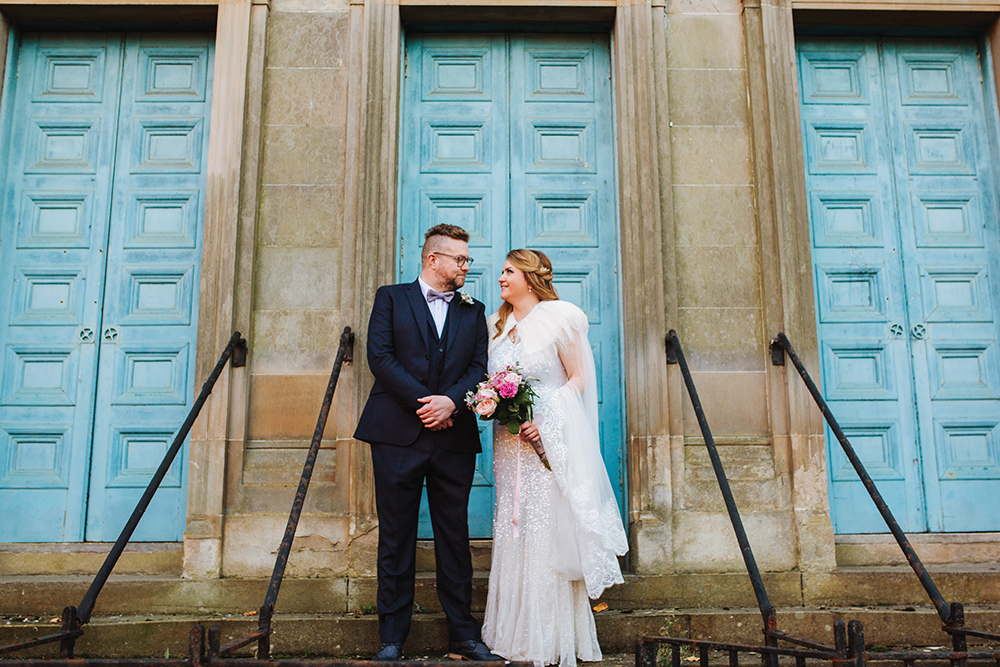 IMAGE | Laura A Tiliman Photography
Barbara and Graham met through their love of live music and it's the second time round for both of them.
"There was a kind of mutual proposal after an Arcade Fire gig in Berlin in 2017 and then a more determined set-the-date conversation during our time at Lake Como last September," smiles Barbara.
They came home from holiday and booked Òran Mór's gallery space for their intimate wedding.
Although Barbara had been married before, she'd not had the big dress experience.
"I married in Vegas without any family or friends and no wedding dress so I knew that I wanted everything to be very different this time around."
The bride admits to dreading dress shopping but fell in love with the first budget-busting gown she tried.
She then spent weeks scanning similar styles and eventually bagged a perfect sample sale number.
"This was full-on traditional princess bride and felt like 'the one' but in reality it was far too big for a small, intimate wedding ceremony," she says.
As the big day approached Barbara realised she wanted something completely different and turned to the internet, finding an amazing shimmery number from Phase Eight.
She teamed it with a gorgeous long flowing cape which she replaced with a short feathered capelet at night.
"What I ended up wearing was completely different from what I thought I wanted but I couldn't have been happier," she says.
"It felt a little bit like dressing up but, most importantly, I felt comfortable and pretty confident that I looked OK in it."
A TOUCH OF TARTAN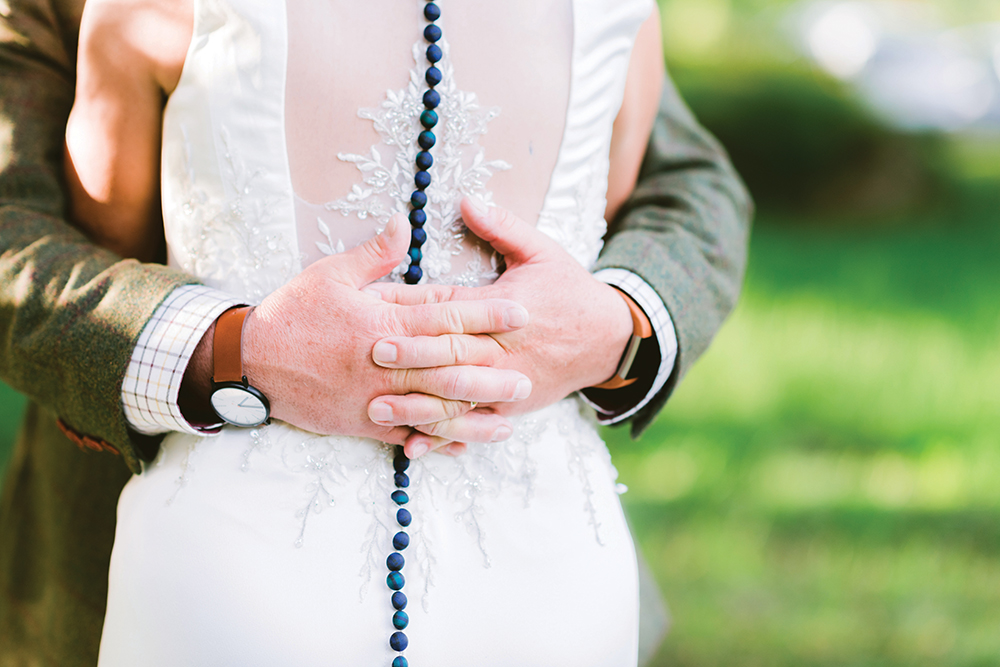 IMAGES | James Kelly Photography
Helen's first dress-shopping appointment happened to coincide with Harry and Meghan's big day, putting her and daughter Alice very much in wedding mode.
However, the bride initially felt she was too old to wear an elegant wedding dress.
"Once I accepted that the attention would be on me [though], I embraced the feeling and chose a dress that I felt was very special and the right choice for me," she says.
It was a second wedding for both Helen and her other half David and she had no preconceived ideas about what style of dress she would wear.
"Quite quickly I realised I wanted a dress that was not too fussy, fitted and elegant," she says.
It was actually Alice who found the winning gown.
"It was the first I tried on, I loved it from the start and I found myself comparing every dress I tried from then on to it," she says.
One thing Helen did have her heart set on was the inclusion of a subtle Scottish theme.
Cue the line of sweet tartan buttons stitched down the back of the dress.
David loved the finished result and how well it complemented his bride.
Looking back, Helen says it's important not to bow to pressure.
"It is your day, your choice," she says. "I believe first weddings can be guided by stigma and expectations, but I can honestly say, if I had to plan the whole time again, I wouldn't change one thing."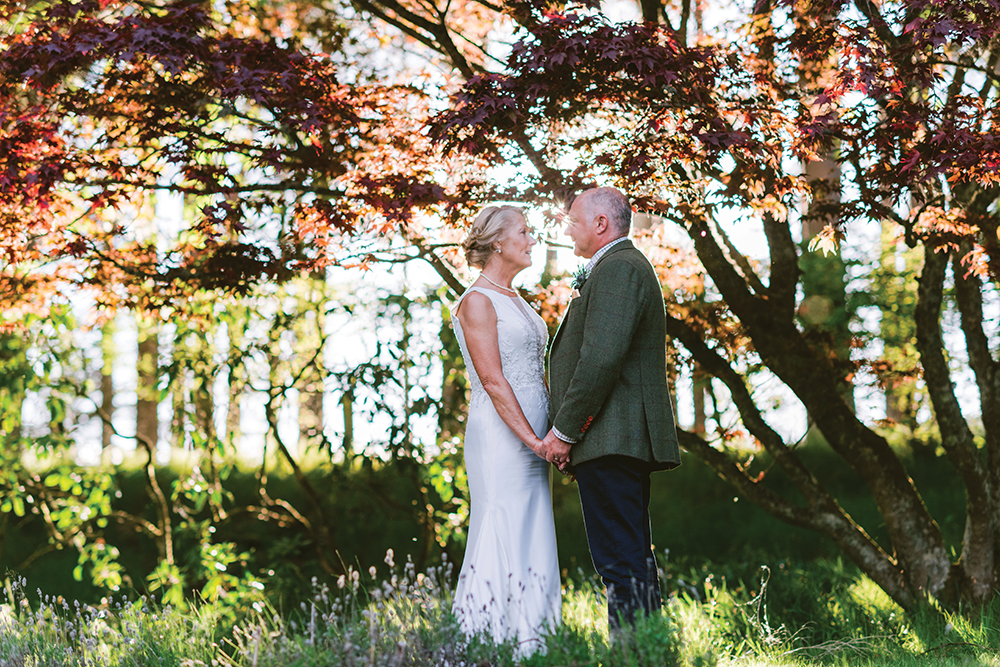 A DIFFERENT TAKE
If you're hell-bent on avoiding the big white dress (whether this is wedding one or 10), here's a selection of stylish alternatives
WHITE WITH A TWIST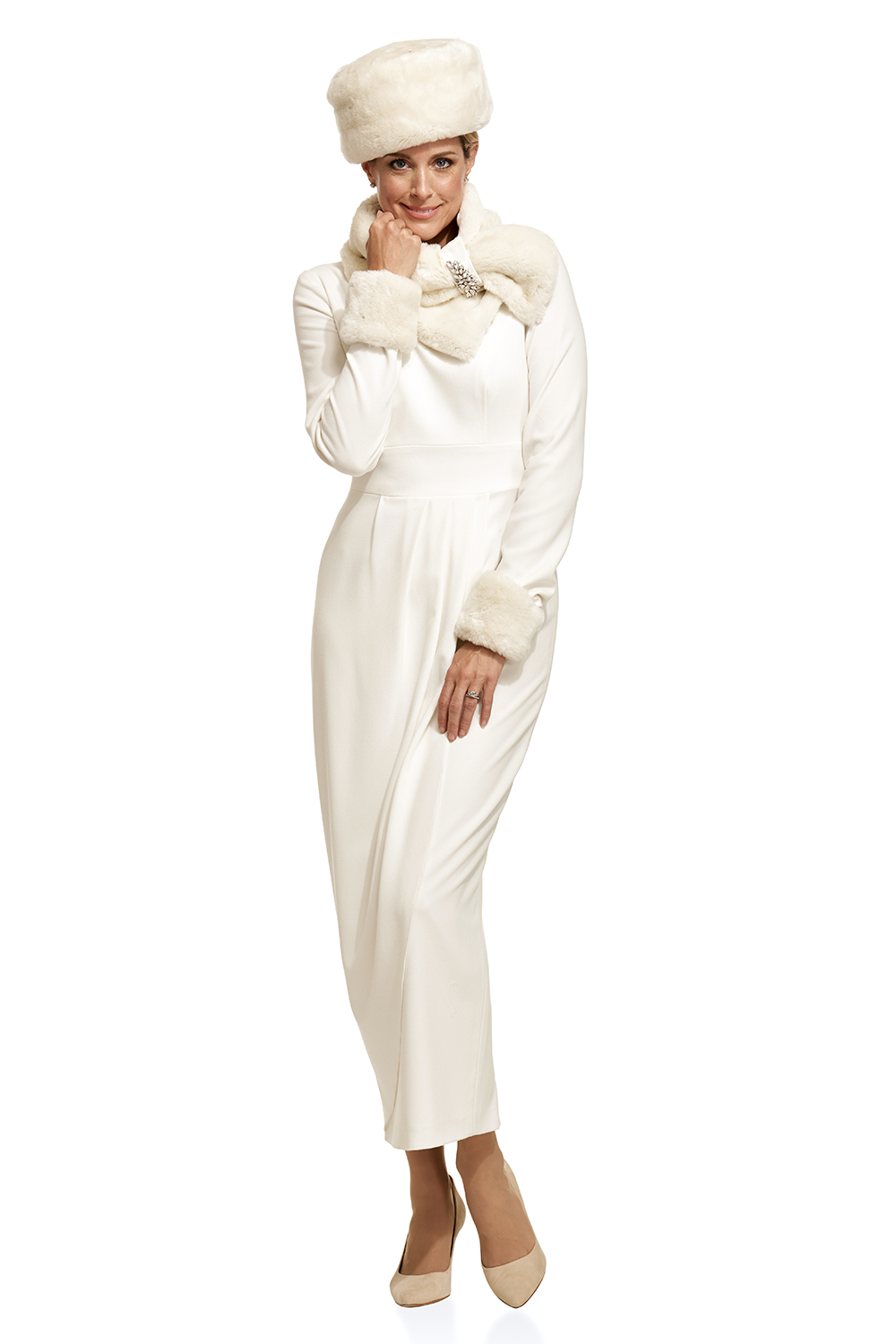 Crepe tulip dress with detachable fur cuff and scarf (POA), Joyce Young Design Studios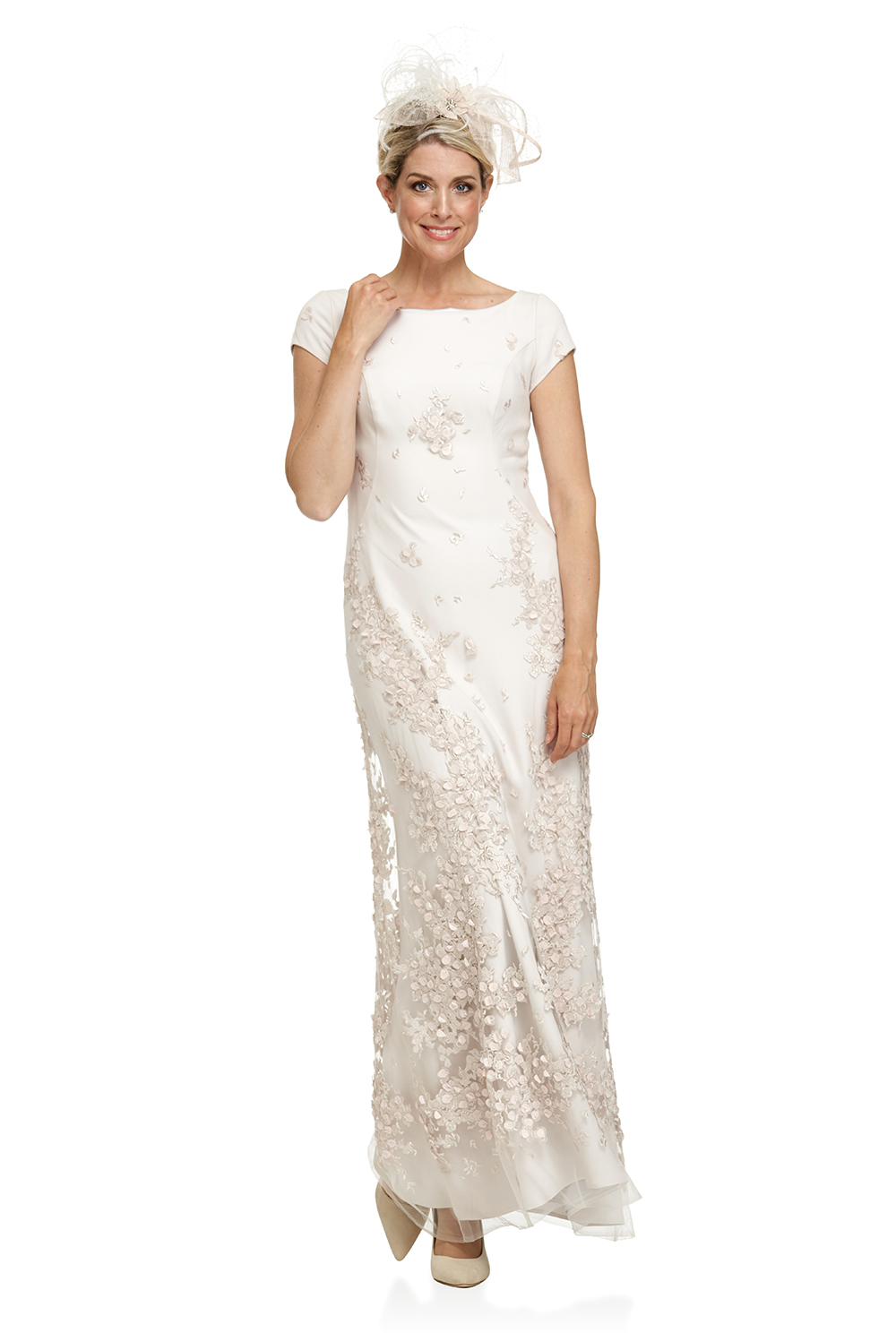 Flower-appliquéd A-line 3D long dress (POA), Joyce Young Design Studios
THROW SOME SHADE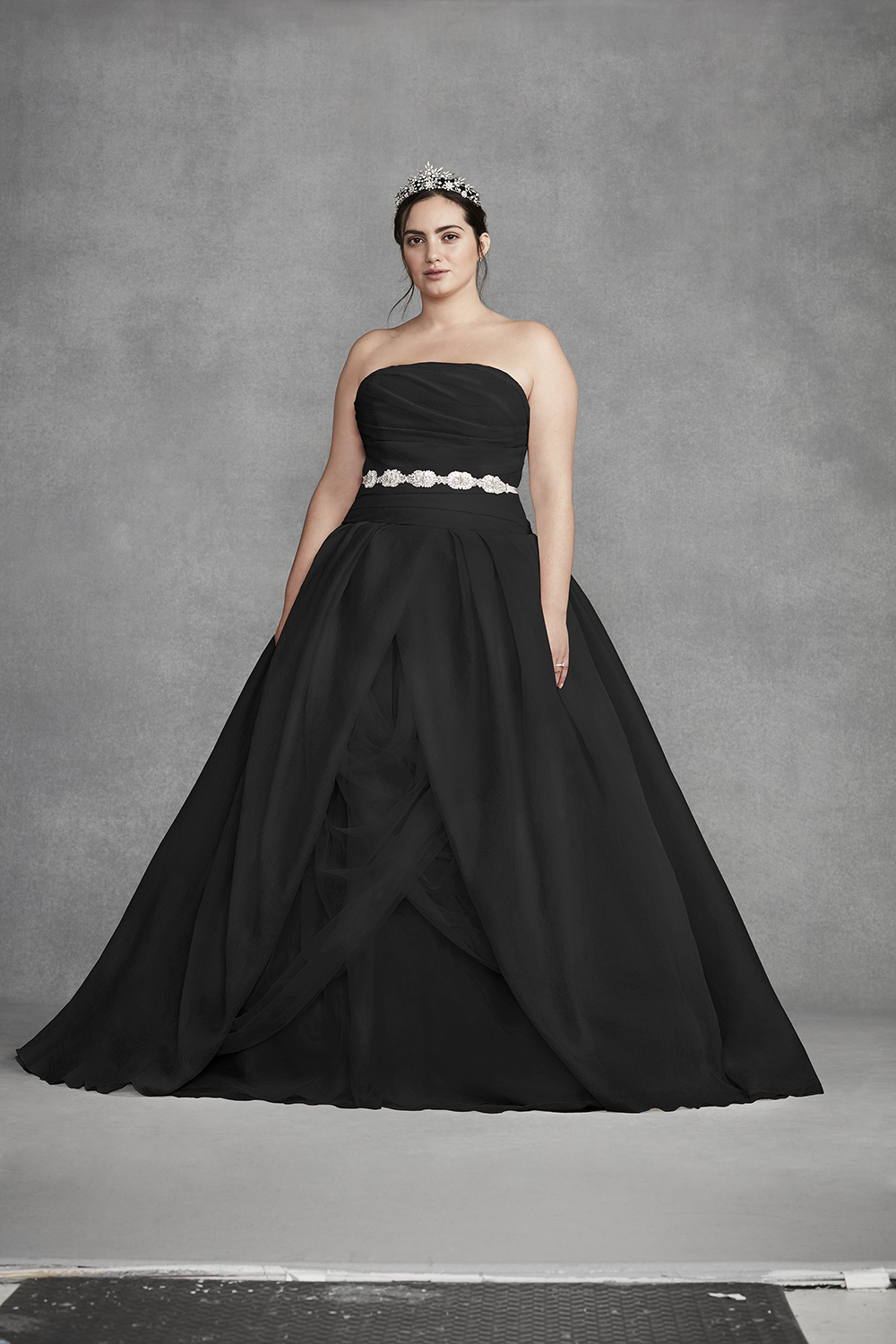 'VW351178' (£1,095, also comes in ivory, and sterling), David's Bridal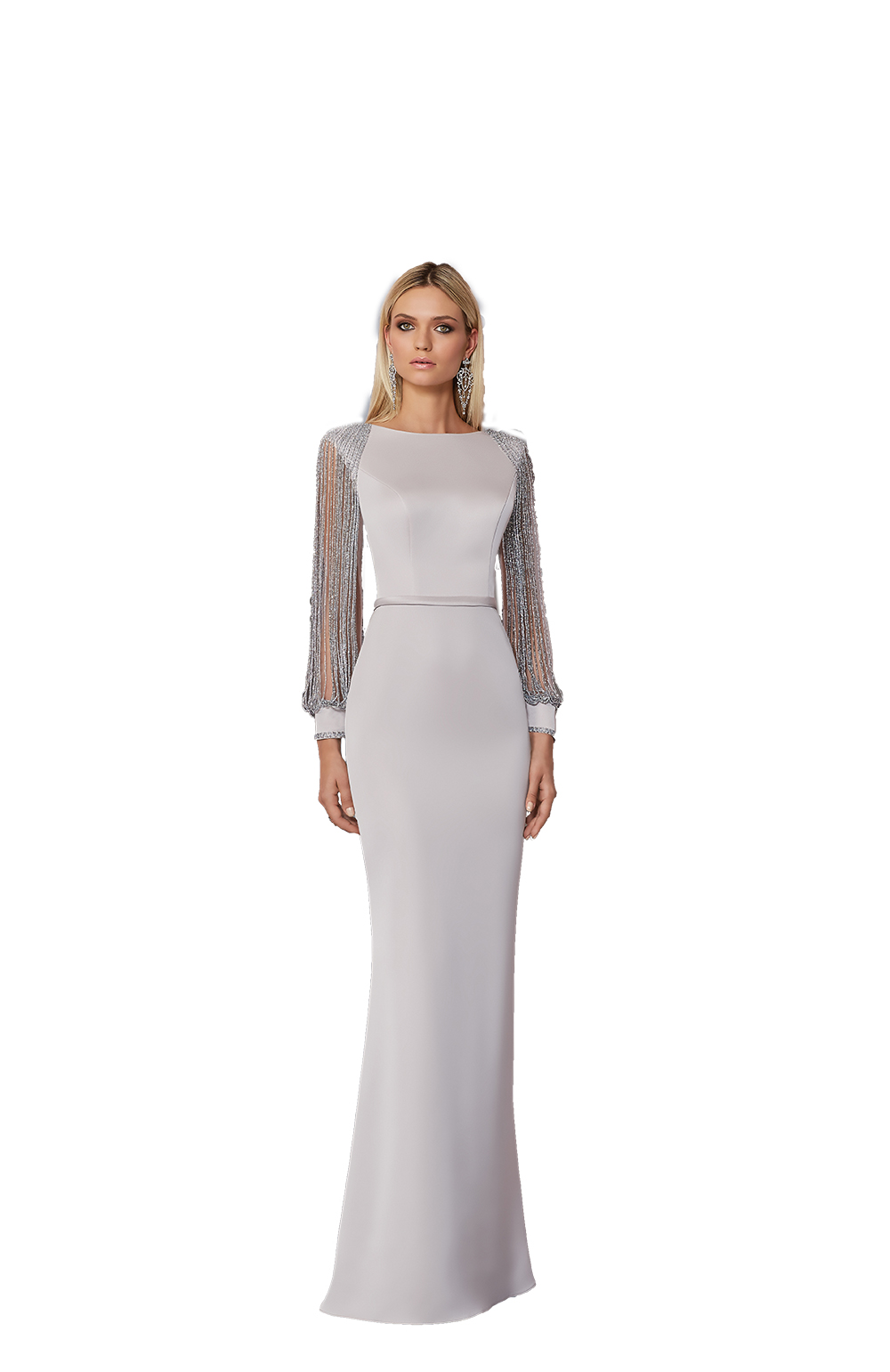 Ronald Joyce '29301' (£599), Diane Honeyman
WEAR THE TROUSERS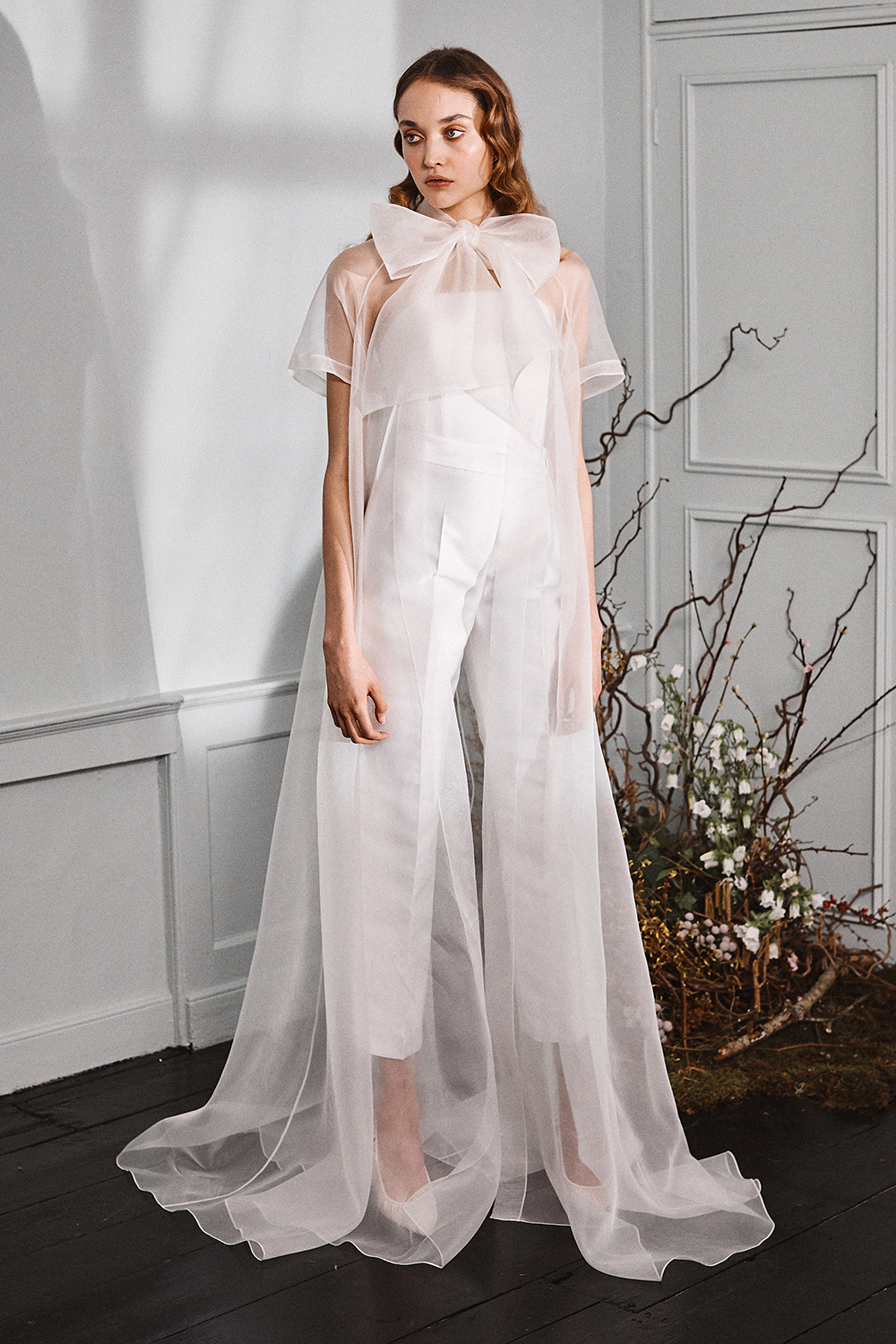 Kate Halfpenny 'Campagne' cape (£900), corset top (£1,200) with 'Henson' trousers (£1,000), blazer (£1,350) and organza blouse (£1,000), Rachel Scott Bridal Couture
HAVE YOU FOUND YOUR WINNING WEDDING OUTFIT YET?