Dress Stories: A lightweight Mirka Bridal Couture wedding dress for a wedding abroad
Bride Rachael planned a wedding overseas in Sri Lanka, and needed the perfect airy dress to wear in the island heat.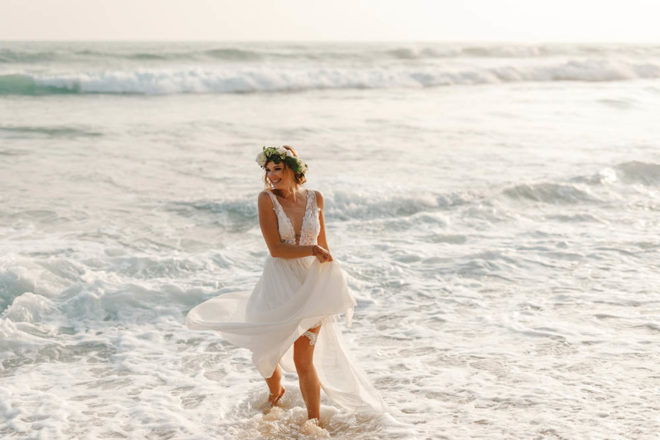 IMAGES | Sunny Days Wedding & Family Photographers
Dress Stories is all about a bride's relationship with her special wedding outfit, from searching for it to finding it, and how it made her feel on the day.
Scottish bride Rachael got married in Sri Lanka during one of its warmest months, so she wanted a light and stylish wedding dress that would feel comfortable to wear in the heat.
And the bride wore… A Mirka Bridal Couture wedding dress from the designer's latest collection.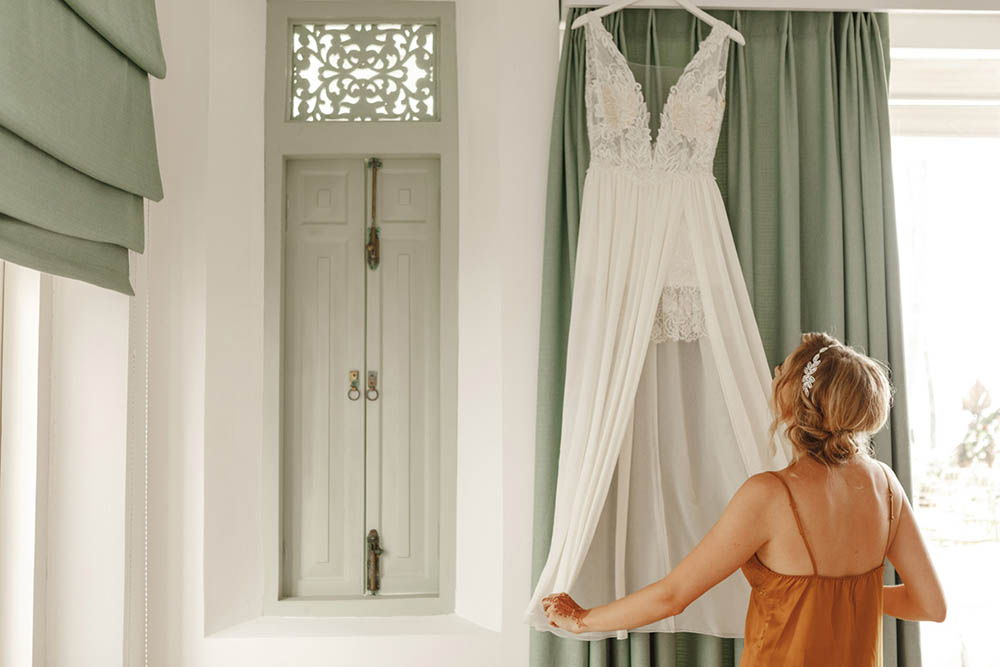 How did you feel about dress shopping? 
Initially I was really excited about going dress shopping, and felt like I was going to find a dress easily.
But I actually found it really quite stressful once I started. I tried on quite a lot of dresses and really loved a few, but I never really felt completely like myself in any of them.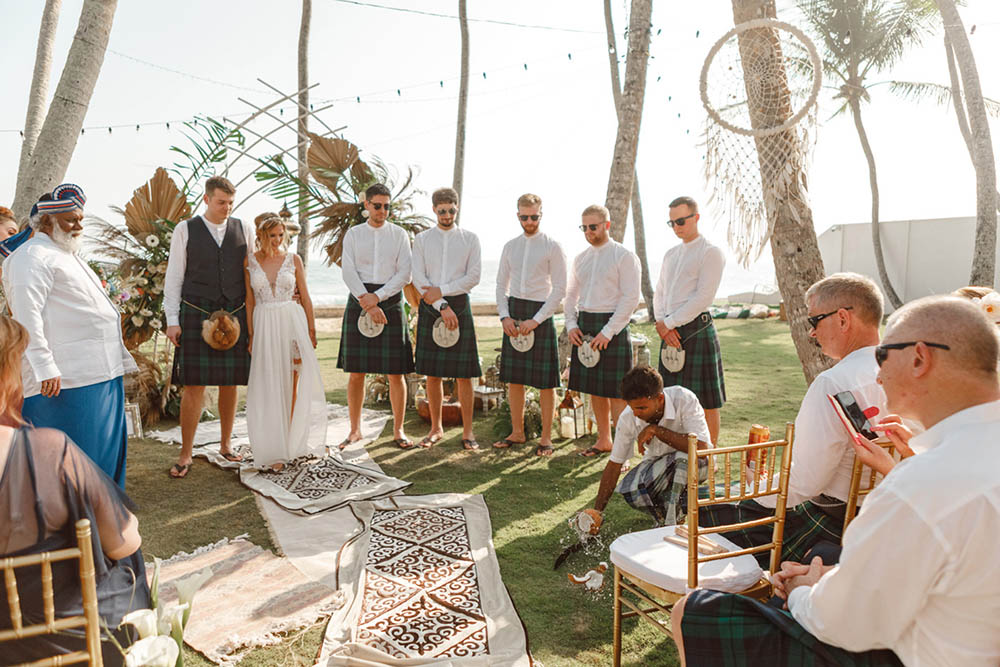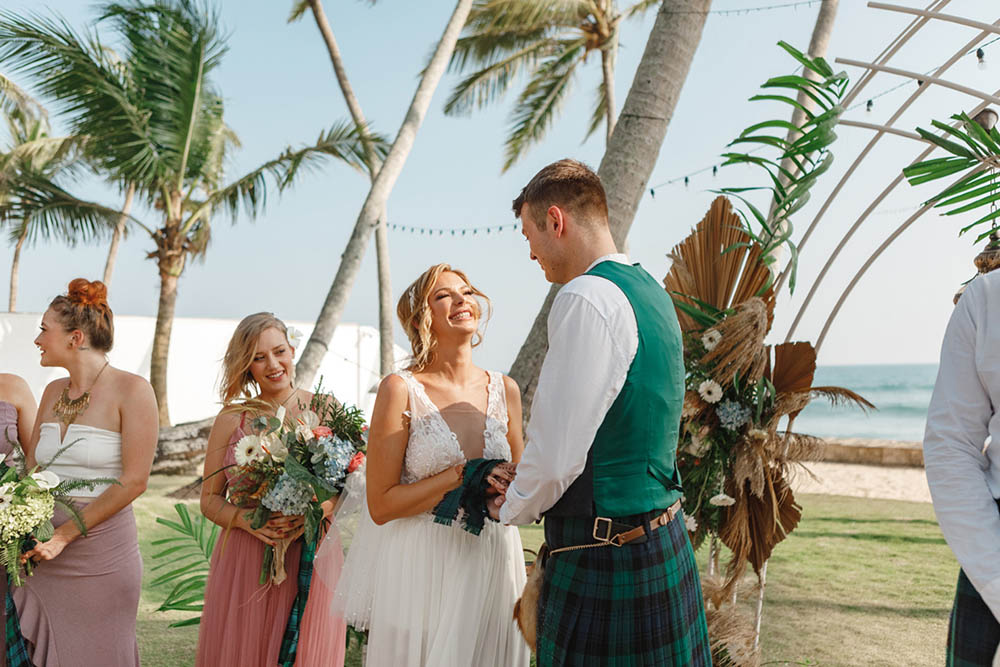 Did you have a clear idea of what you wanted in your head before you started looking?
I probably had a better idea of what I didn't want!
I knew I didn't want anything that was too traditional or structured, but I did keep an open mind when trying different styles on. My wedding was booked for the warmest month in Sri Lanka, so I knew I didn't want any heavy or warm materials.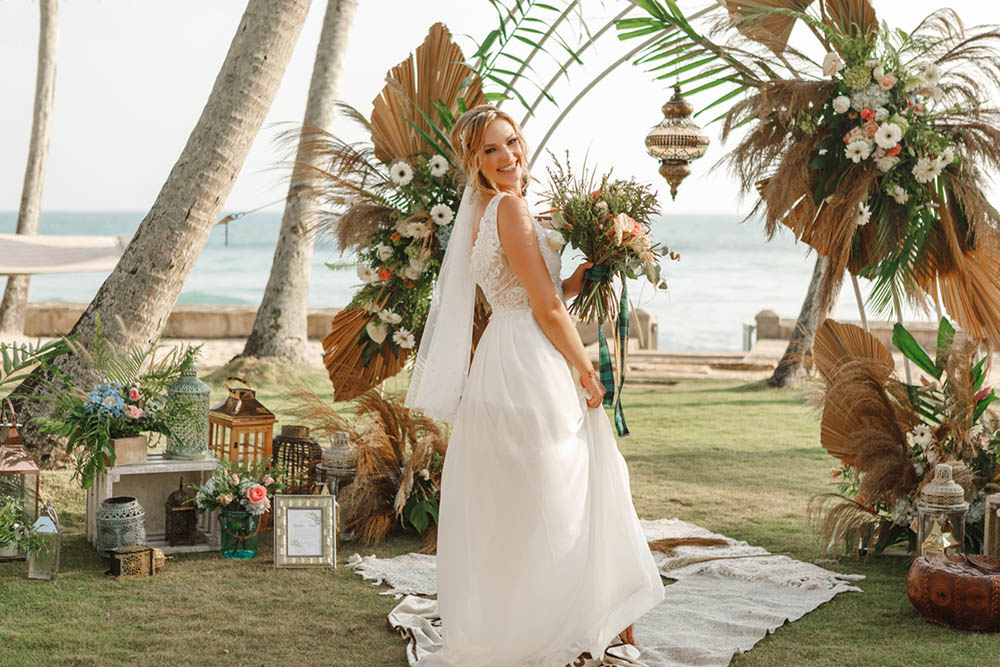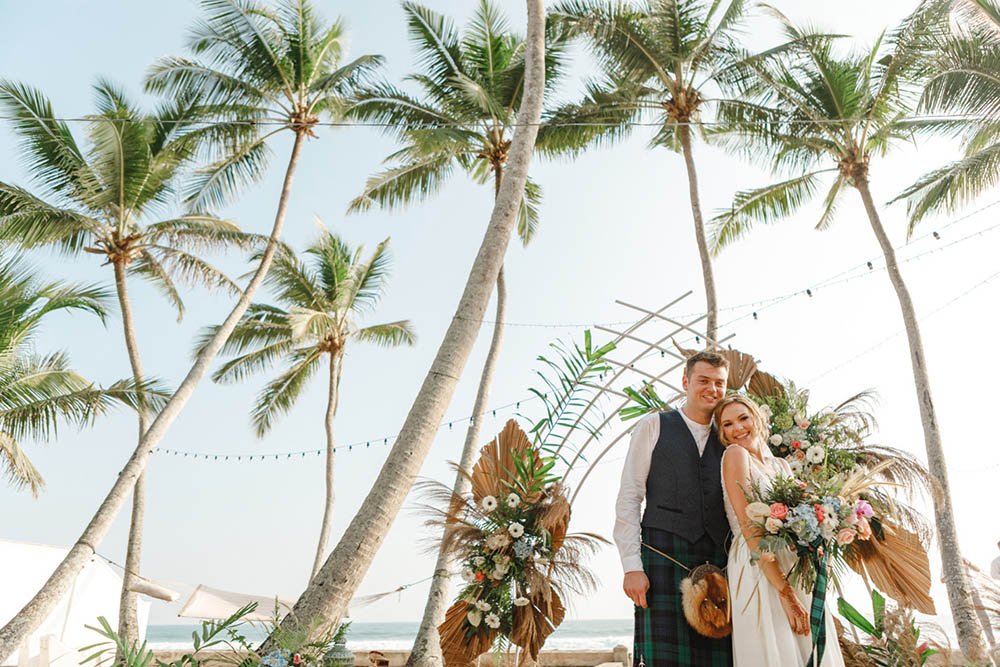 How many dress shops did you go to, and how was your shopping experience?
I went to around five different shops. My mum was at every appointment and my bridesmaids and sisters came when they could too.
I loved trying on all the beautiful styles, and it was great to find out which shapes and details I liked. But it did get to a point where I didn't feel like I was going to find any dresses within my budget that I was totally obsessed with.
I actually went through the process of buying a really cheap dress online to get alterations to make it exactly what I wanted, but I still felt like I didn't totally love it.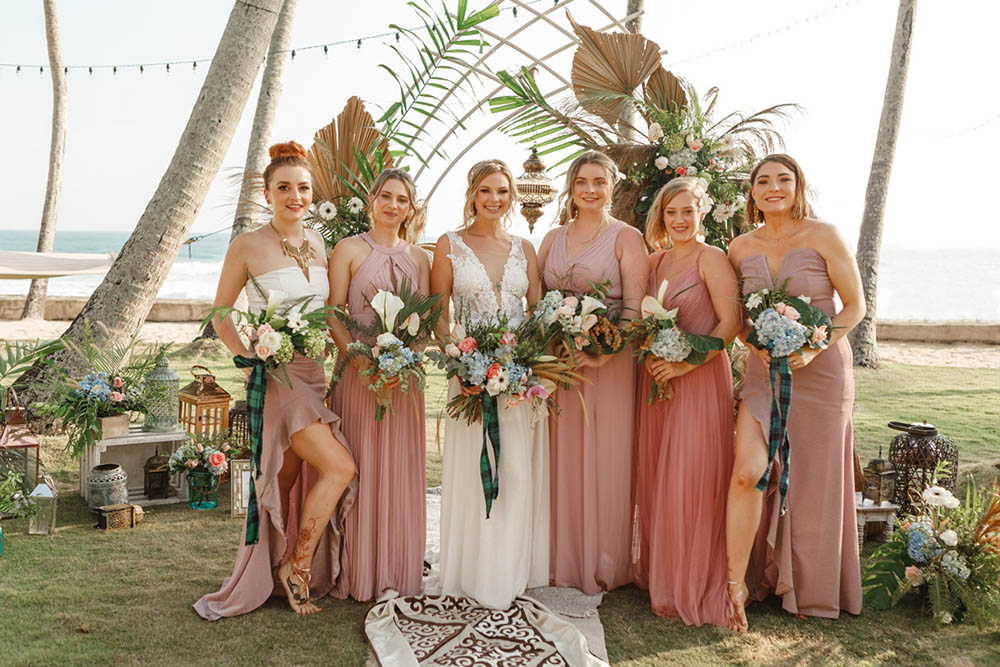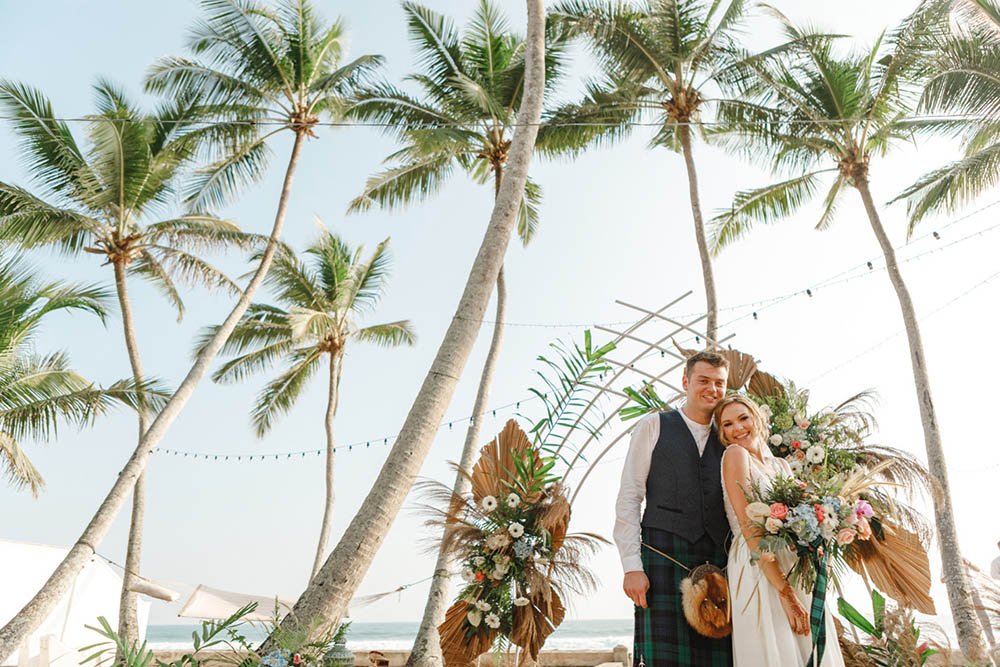 Where did you eventually find your dress? 
Eventually I decided I would enquire about getting a bespoke design with Mirka Bridal Couture in Kirkcaldy.
I sketched out some shapes that I love and dropped into the store. This was the first store I felt completely at ease in; it was a really relaxed and professional atmosphere.
Mirka showed me the 'Bonita' dress from her new collection, I tried it on and completely fell in love.
It was the first dress I really felt like myself in! It was the perfect shape, I loved the leg split and the underskirt, the lace detailing is just so gorgeous and I'll always be obsessed with that dress. I felt like it was made for me!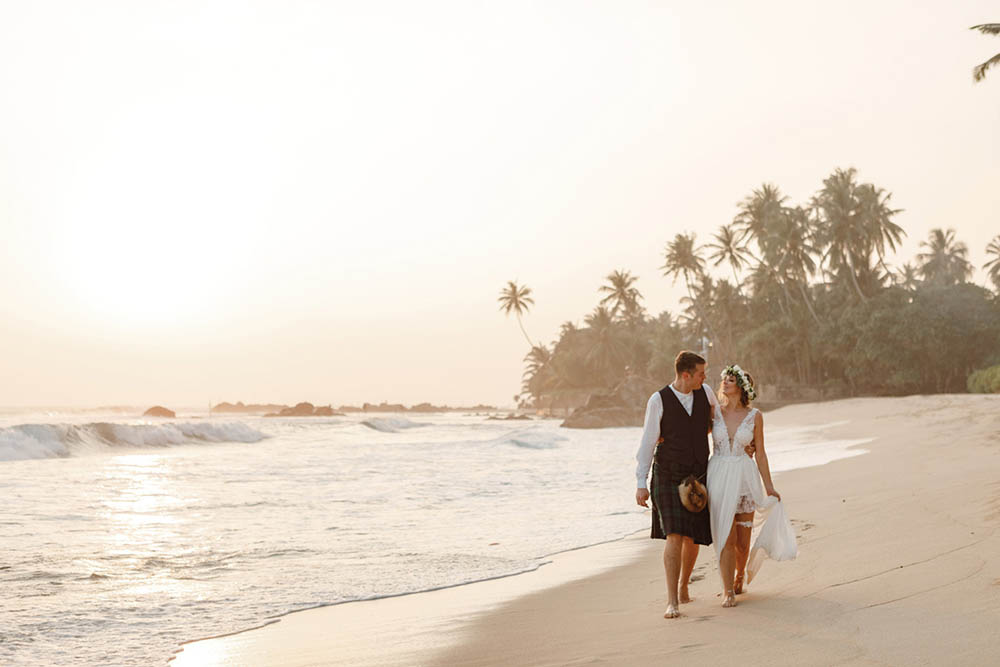 How did you accessorise your dress?
For the ceremony I wore a short veil with pearls and a Grecian headband, both from Mirka Bridal Couture.
I then changed into a fresh flower crown, made by my wedding planner (@srilanka_wedding) on the morning of the wedding. Mirka made me a beautiful garter with the same lace as my dress which I really loved.
Our wedding was in a villa overlooking the beach, so my bridesmaids and I wore pearly foot jewellery and we got henna two days before so that it was perfect for the wedding day.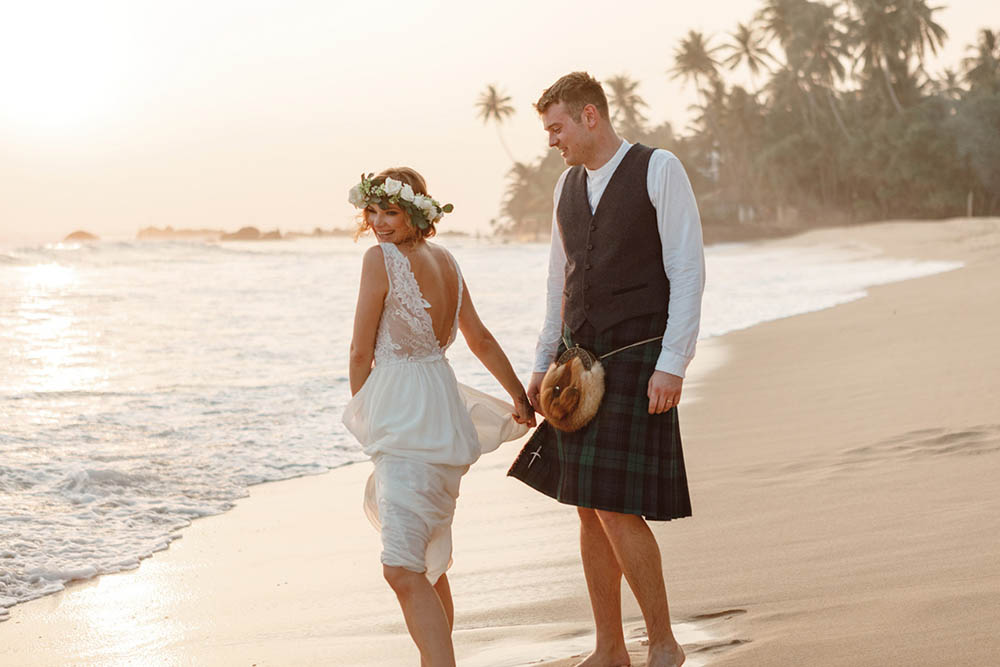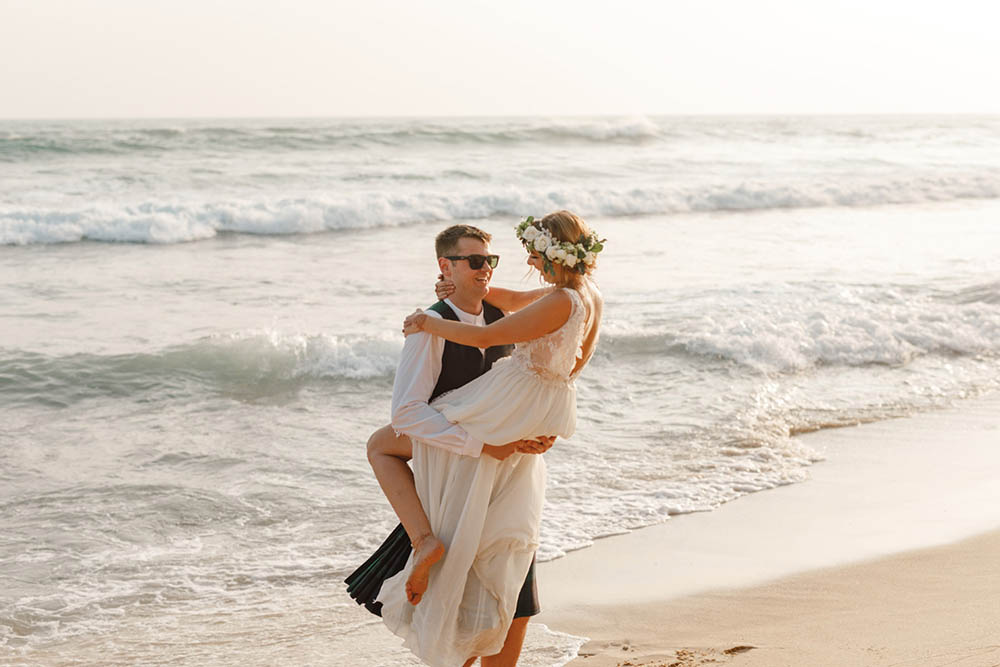 What advice would you offer brides-to-be who haven't gone wedding dress shopping yet? 
I would recommend keeping an open mind and trusting your instinct.
Listen to everyone's opinions but go with what makes you feel confident and like your best self! I'd suggest trying a few different stores before making a decision, as there's such a variety out there. Also, enjoy and have fun!