Ditch the pre-wedding diet; it's all about finding the right wedding dress for you
Features writer Claire McPhillimy breaks down how and where to find the perfect wedding dress no matter your dress size...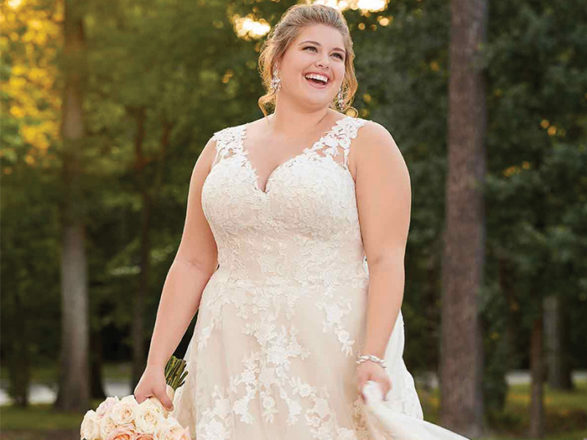 Features writer Claire McPhillimy breaks down how and where to find the perfect wedding dress no matter your dress size…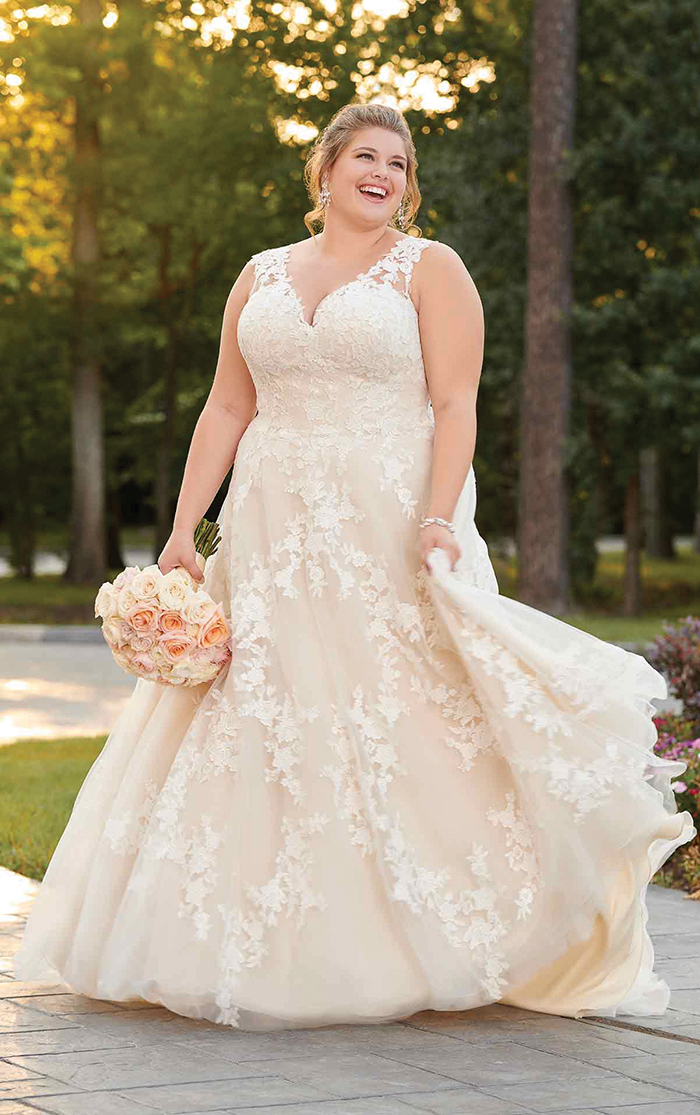 It's dangerous, both physically and psychologically, to feel the need to totally change your body – be it by losing weight or trying to add curves in the 'right' places – it's completely unnecessary.
I'm not going to get into all the arguments about how you're going to look great just exactly as you are (although hit me up if you need a body positive pep talk), nor will I also remind you that you can, of course, do whatever you want to change your body so long as you do it healthily (but please do be sensible).
What I will say is this: there are plenty of wedding dresses out there to suit bodies of all shapes, sizes and abilities. You don't need to succumb to the pressure to lose weight, gain weight, slim your arms, lift your bum or streamline your tum – to do anything at all to your body, in other words – to walk down the aisle looking and feeling like the best possible version of yourself.
I know that's much easier said than done but if you head to the right shops and designers as you plan your wedding day look, your confidence is bound to skyrocket.
BRIDALWEAR, DONE RIGHT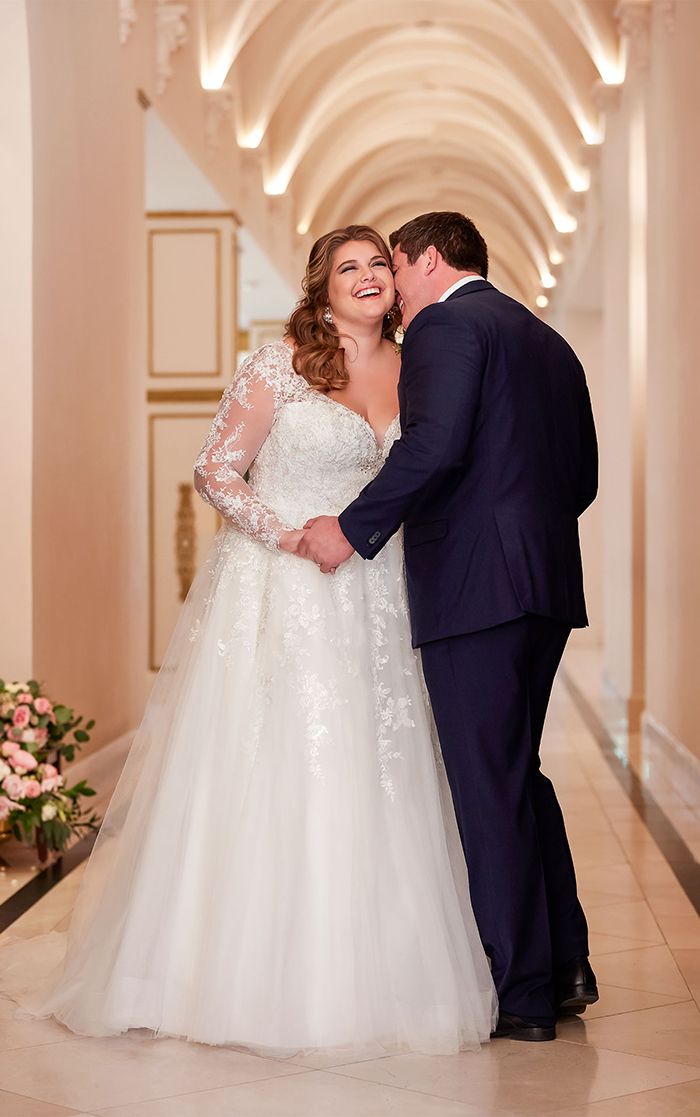 Bridal boutiques can be heavenly, but they can also be stressful if you're worried that you won't fit into any of the sample gowns.
Because it's expensive for bridal boutiques to buy sample dresses in a variety of sizes, some don't have plus-size gowns to try on in the shop, even when the designers they stock do cater for plus-size women. This can turn what's supposed to be a special shopping experience into a pretty disappointing one.
The good news is that in recent years, more bridal boutiques have been making an effort to ensure all women can try on a dress in their stores.
Sophia Grace Couture in Haddington, for example, has dresses to try on in sizes 8-28 (some of their designers go up to size 34). The boutique also hosts two plus-size events every year, for which plus-size designers such as Stella York send around 20-30 of their latest gowns.
JUST FOR YOU
All appointments are also private, so you'll reap the benefits of having a dedicated stylist who'll help you find styles you like as well as gently push you out of your comfort zone.
That might sound frightening, especially if you're someone who's adamant about covering up a particular area of your body, but it can actually be a great thing to have someone friendly and experienced show you a dress you'd never have braved on your own.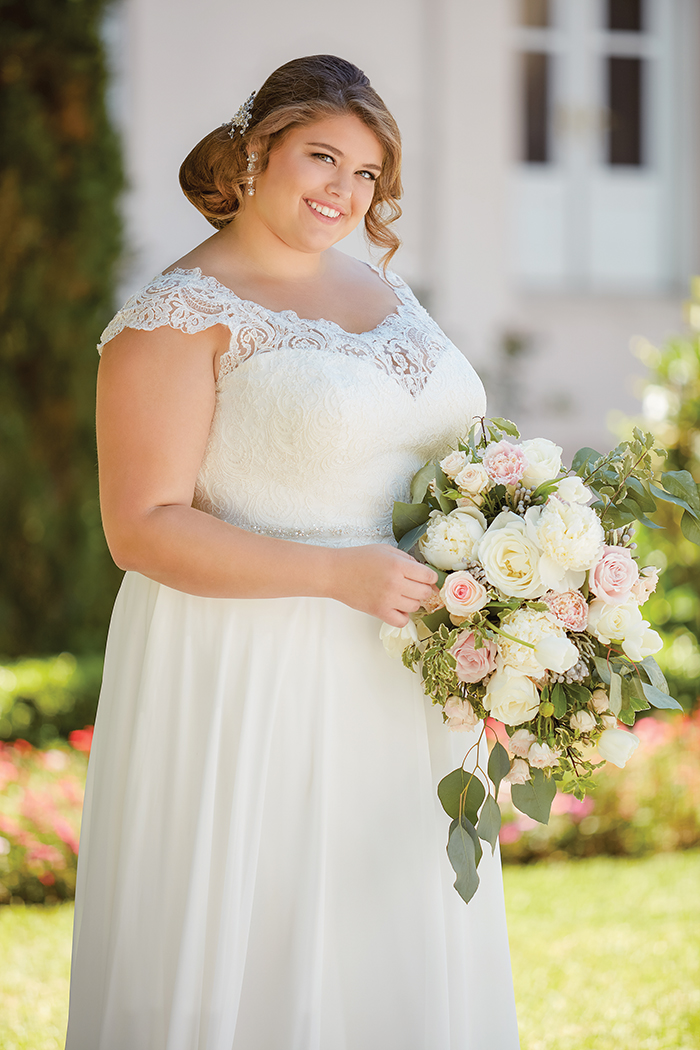 ALL IMAGES | Sophia Grace Couture 
It's something The Bridal Boutique @ Frox of Falkirk, which has dresses in-store to try on in sizes 8-30 and stocks designers that go up to size 36, also stresses.
"We firstly find out if you have any ideas of what you like or don't want, then we start to pull dresses with this in mind," says Fiona. "However, we would always say keep an open mind as many brides end up going for the complete opposite of what they thought!"
David's Bridal, which stocks dresses ranging from American sizes 0-34, also focuses on making sure all brides that walk through their doors enjoy every minute of wedding dress shopping: "We believe in inclusivity, authenticity and empowerment.
Our team of expert bridal stylists are fully trained to work with each bride and their needs to find the perfect silhouette to make them look and feel amazing."
THE CHOICE IS YOURS
Scotland is home to lots of bridalwear boutiques dedicated to providing wedding dresses for brides of all shapes and sizes, so don't be afraid to ask the ones that have caught your eye about the sizes they stock and can order. Knowing they'll have something to try on that will actually fit you, or that they can order one in, is a great starting point.
And remember, you don't have to start at this step. If you're really nervous about finding a dress, do a little research into designers first. Some designers specialise in creating trend-led plus-size wedding dresses, such as Sonsie by Veromia, Stella York and True Bride.
Then, once you've found a designer you like the look of, you can search for stockists and head along to check them out in person.
Still looking for wedding outfits?